Indigenous Groups Want More Say at Arctic Council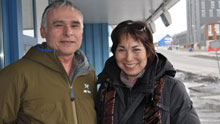 Some northern indigenous groups want the Arctic Council to give them the right to vote and other powers that are currently reserved for member countries like Canada, the United States and Russia.
Groups like the Inuit Circumpolar Council and the Arctic Athabaskan Council want to have a greater say in the affairs of the Arctic Council, an intergovernmental forum that brings together eight northern nations.
Both groups are among six Arctic indigenous groups that are "permanent participants" in the Arctic Council, meaning they can take part in all forum meetings and voice their views to the eight member nations.
But that's all they can do right now, said Jimmy Stotts, president of the Inuit Circumpolar Council in Alaska.
"We don't have a right to vote. That right is reserved to the states," Stotts told CBC News from Nuuk, Greenland, where high-level officials from the eight Arctic Council nations will meet on Thursday.
"We would argue that we should have more decision-making authority."
Aglukkaq representing Canada
Canada is sending Leona Aglukkaq, the MP for Nunavut and former health minister, to the ministerial meeting in Nuuk.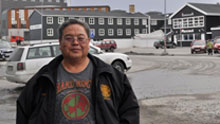 There, she will meet with U.S. Secretary of State Hillary Clinton, U.S. Interior Secretary Ken Salazar, and foreign affairs ministers from Russia, Norway, Iceland, Finland, Sweden and Denmark.
The Arctic Council is increasingly being seen as the world's most important body on Arctic issues. Ministers at Thursday's meeting are expected to sign a search and rescue treaty, believed to be the first time the council has been used to make international law.
Mickey Stickman of the Arctic Athabaskan Council said indigenous groups like his should have a greater voice on the Arctic Council, especially on issues such as climate change.
"Because of our relationship to the land, it's important that we have more say," Stickman said.
Permanent HQ to be discussed
Stotts added that indigenous groups also need better funding so they can participate fully in Arctic Council activities.
The council's member states will also be asked, among other things, to decide whether it will evolve into a full-time, year-round international body with permanent headquarters, in preparation for a greater role in Arctic governance.
"I'd like the right to vote on where the permanent secretariat would be, for example, and other issues," Stotts said.
"We have the right to say what we think, but the Arctic states will decide that."
An Arctic Council delegate told CBC News that so far, Norway and Iceland have submitted proposals to host the council's headquarters.