Residential School Survivors: Improve Mental Health Care in Canada's North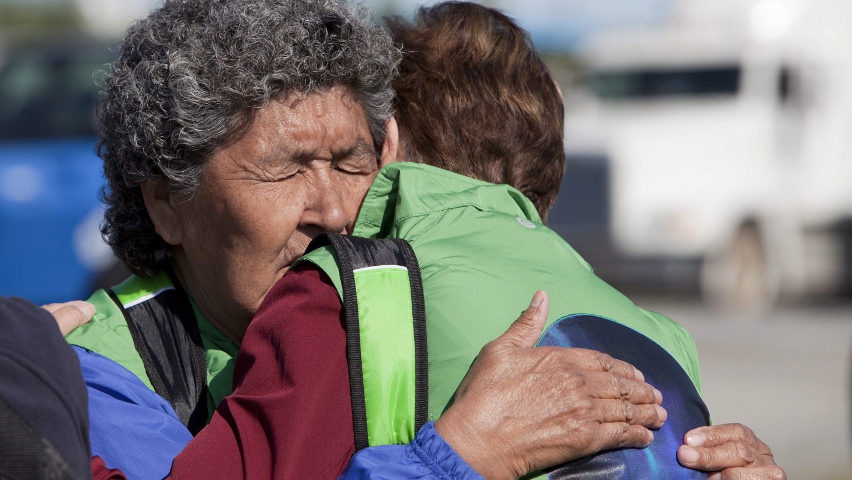 The Truth and Reconciliation Commission's second national event wrapped up Friday in Inuvik, N.W.T., with many delegates renewing their call for better mental health support services for everyone, not just residential school survivors, in remote northern communities.
"We lost hundreds of young people to suicide because there was not enough mental health facilities to respond to their needs," Jack Anawak, who volunteers for a crisis line in Rankin Inlet, Nunavut, said Thursday.
"They were not mentally handicapped. They just had some problems that they had to deal with, which could have been dealt with through [a] mental health co-ordinator or mental health people."
Nick Sibbeston, a Liberal senator for the Northwest Territories and himself a former residential school student, said the federal Conservative government should not have cut funding for the Aborginal Healing Foundation.
That put an end to many community programs designed to help former students. Instead, the government provided $65 million over the next two years for Health Canada to run the programs.
Aboriginal Affairs and Northern Development Minister John Duncan, who attended the Inuvik event, told CBC News the changes won't leave former students without the emotional and mental support programs they need.
"The Health Canada resourcing is at more communities … than the Aboriginal Healing Foundation," Duncan said in an interview Wednesday.
"They are, I believe, culturally sensitive individuals, and many of them are actually aboriginal persons. So once again, we felt quite comfortable in the new arrangement."
But Sibbeston disagreed, saying the services being offered through Health Canada are difficult for people in remote northern communities to access.
"For ordinary people in the communities, it's a world away," Sibbeston said. "It's an impossible world to know of the program, and it's not readily available. And so when they say there's money available, that's a lie."
Alice Kimiksana from Ulukhaktok, N.W.T., also wants more counsellors in the communities to "do a lot more followup more with the people that are on their healing journeys."
Chief Norma Kassi of the Vuntut Gwitchin First Nation in Old Crow, Yukon, said her community is building its own healing centre, which she described as "a place of healing, a place of dialogue, a place of gathering with cultural activities."
"I think it's long past time that we address our issues," she said.
For more on the mental health crisis in the North, see the Eye on the Arctic Arctic Health Series: Our Spirits.