Forest fire forces dozens to flee remote community in Canadian North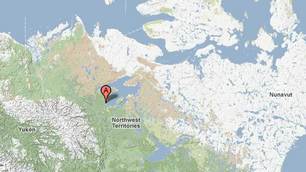 Nearly 100 people in Déline, a remote community in Canada's Northwest Territories, have been forced from their homes by a nearby forest fire.
Local officials declared a local state of emergency and issued an evacuation order early Monday morning.
RCMP officers helped about 94 elders, young children and other "at-risk" residents fly to Yellowknife, according to residents and police.
The 150-hectare wildfire is currently burning 11 kilometres north of Déline. Approximately 700 people live in the community.
Judy McLinton, a spokesperson with the N.W.T.'s Environment and Natural Resources Department, said the lightning-caused fire was reported on Sunday night.
"So right now what we have on site in Déline is one helicopter, one crew, an initial attack response officer," McLinton told CBC News around midday on Monday.
"En route right now to assist with the fire are the two CL-[2]15 tanker groups, one incident command team and five crews and three additional helicopters."
Déline is located about 540 kilometres northwest of Yellowknife on the southwestern shore of Great Bear Lake. It is inhabited primarily be members of the Sahtu Dene First Nation. The community is accessible primarily by air.