Shell wants out of Mackenzie pipeline project in Canadian North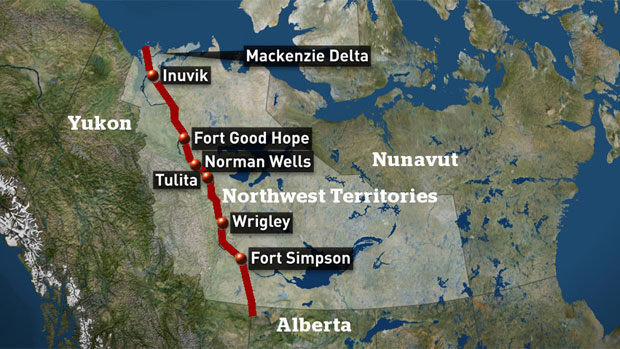 Shell Canada is planning to pull out of the Mackenzie Valley pipeline project and sell its assets in the region.
The company is trying to sell its share in the $16.2 billion natural gas project in the Northwest Territories, according to company documents obtained by CBC News.
Shell is part of a corporate consortium, led by Imperial Oil, that is backing the proposed pipeline. Other members of the consortium are Exxon Mobil Corp., ConocoPhillips, and the Aboriginal Pipeline Group.
Fred Carmichael, chairman of the Aboriginal Pipeline Group, estimated that Shell has an 11 per cent share in the project.
"They are actively now looking for buyers, and we're not really that concerned," Carmichael told CBC News.
"We're sure that there's … a lot of companies out there that would love to step up to the plate and take over."
If built, the 1,200-kilometre pipeline would transport natural gas from the Beaufort Sea, through the Northwest Territories' Mackenzie River Valley, to a hub in northern Alberta.
According to the Shell documents, the company has analyzed its global portfolio and decided to focus on other opportunities.
The Mackenzie pipeline project finally won federal approval this year, following years of study into the project's potential impacts in Canada's North.
Even if Shell does find a buyer for its share in the project, there is no guarantee that the pipeline will be built. The consortium has until December 2013 to decide whether it actually wants to proceed with construction.