Nordic countries to cooperate on wolf policy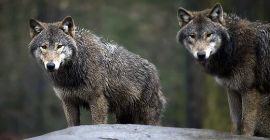 Sweden, Norway and Finland will expand their cooperation when it comes to how to deal with the Scandinavian wolf population, Swedish news agency TT reports.
Most of the wolves in Scandinavia live in the border area between Norway and Sweden but so far the countries have had separate policies on how to deal with the animals.
The decision to increase cooperation came at a meeting between environmental ministers in Poland. Swedish minister of environment, Andreas Carlgren, met with his Norwegian colleague Erik Solheim and discussed, among other things, the management of the Scandinavian wolf population.
"The intention is to strengthen the cooperation. That could possibly mean common strategic plans for how to manage the population," said Oscar Sundevall, press secretary at the ministry.