Bowhead whale hunt underway in Canada's eastern Arctic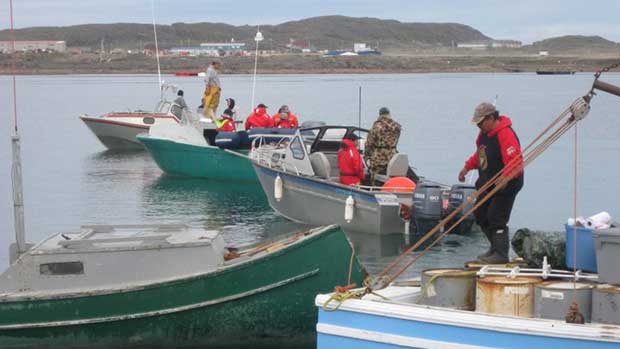 Hunters in Iqaluit, the capital of Canada's eastern Arctic territory of Nunavut, have embarked on a bowhead whale hunt this week, the first in recent history for Inuit in the city.
Weather conditions cooperated Monday morning as six boats, each carrying about four hunters, departed from Frobisher Bay.
A crowd of spectators, including Mayor Madeleine Redfern and family members and friends of the hunters, saw off the hunters at the Iqaluit breakwater.
Glenn Williams, a wildlife advisor with Inuit land-claim organization Nunavut Tunngavik Inc., said the hunters have a good chance of success.
"What they'll do is they'll have spotters out in different areas, spotting and looking, and everybody's in communication by CB radio," Williams told CBC News.
"The last couple of days people have been seeing bowheads…. So yeah, there's bowheads in the area, and it looks like this morning the weather's cooperating."
Hunt co-captain Pitseolak Alainga said it has been more than 100 years since hunters in Iqaluit have harvested one of the massive marine mammals, which can feed hundreds of Inuit in the area with meat and muktaaq.
Off-limits for decades
While whaling has long been a revered tradition in Inuit culture, which emphasizes the ability to live off the land, the bowhead whale was completely off-limits to hunting for decades. As a result, many modern Inuit in Nunavut have not had a chance to go after the large whales.
As bowhead numbers started to rebound in the mid-1990s, hunters have been slowly getting their chance. Today, a licence is needed to harvest bowhead whales.
On Friday, the hunters' equipment was inspected by officials with the federal Department of Fisheries and Oceans. The gear includes harpoons, butchering equipment and buoys.
The hunters also signed the licence allowing them to harvest a bowhead whale.
Similar hunts are also taking place this year in the Nunavut communities of Kugaaruk and Coral Harbour.