Alaska Natives benefited, burdened by controversial program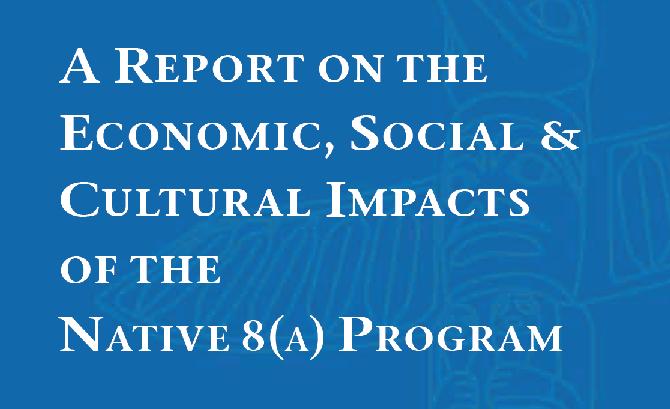 Twenty American Indian and Alaska Native companies receiving special benefits under a controversial federal contracting program returned more than $100 million to their communities in 2010. That's the good news.
The not-so-good? Native people represented just 5 percent of the companies' workforce, according to a new report touting the program.
Thanks to the controversial federal advantages, those Native companies and others have won contracts valued at hundreds of millions of dollars, often without competing for them against other bidders.
Profits from those contracts are helping the Alaska Native, American Indian and Native Hawaiian people that those firms represent, the report argues. And what about those Native employment figures? They'll "explode" in the coming decades, said Kevin Allis, the new executive director of the Native American Contractors Association.
"The report shows we have a lot of work to do, but it also shows we're addressing the concerns a lot of people have had," he said.
Allis said that American Indians and Natives — long among the nation's poorest racial groups — have traditionally "not been hanging around Harvard University or major colleges and institutions." But he said the firms are redistributing profits to provide unprecedented opportunities, including scholarships, job training and dividends to families.
"A lot of new individuals are now going to college and their numbers are going to explode later as they run our companies, but it takes a generation or two for that to happen. It doesn't just happen overnight," he said.
Allis, a lawyer with expertise in Native business law, speaks from experience. Indian gaming was also once blasted for being controlled by non-Natives who enriched themselves at the expense of the American Indians it was supposed to benefit. Now, casinos employ huge numbers of Indians, including a casino in Milwaukee run by Allis's own tribe, the Forest County Potawatomi tribe.
Lawmakers gunning for program
Some of the nation's most powerful people have targeted these new benefits — which fall under the Small Business Administration's 8(a) program — for reform. They say they're ripe for abuse by unscrupulous executives, including non-Natives, and do little to help the Native communities they're allegedly designed to protect.
Critics include Sen. Claire McCaskill, D-Mo., who did not comment on the report for this story, despite numerous requests. A spokesman in her office said she is under the weather and lost her voice, and he sent proof.
A spokesman for Rep. Ed Markey, D-Mass., said only that Markey has called for a hearing in the Natural Resources Committee, to examine the program and a massive kickback scandal involving U.S. Army Corps officials and Eyak Technology — also known as EyakTek — a subsidiary of an Alaska Native village corporation. That scandal saw the government defrauded for more than $20 million.
Markey requested that hearing six months ago, but it's not happened, said Eben Burnham-Snyder, Markey's spokesman. Scheduling the hearing would fall under Resources' Subcommittee on Indian and Alaska Native Affairs, chaired by Rep. Don Young, R-Alaska, a key advocate for the 8(a) program.
Asked why the subcommittee had not scheduled a hearing, Young's spokesman Luke Miller said the matter should first be heard in the House's Small Business Committee. Miller, said the EyakTek scandal "is one bad apple. It's not indicative of the entire program. Markey and certain members of Congress are out to grab headlines."
Big helping hand
The 8(a) benefits allow the Native firms to enjoy huge privileges that most small, minority-owned or disadvantaged businesses don't. Though oversight and the rules applying to the Native 8(a) companies have become stricter in recent years, they can still win unlimited-size federal contracts without competing for them. Other small 8(a) businesses, such as those run by Hispanics, are capped at $5.5 million when federal contracts aren't bid. And that's just one of the program's advantages for Native firms.
Proponents argue the corporations are different from standard businesses because they are helping lift entire communities out of poverty.
Alaska Native corporations, representing 12 regions of Alaska and scores of villages, have taken the biggest bite from the 8(a) apple by far. Those corporations were created by Congress in 1971 to provide economic opportunities to Alaska Natives, who suddenly became shareholders and board members in these new economic creatures, though they often had little education. Years later, Congress created the advantages under the 8(a) program, which sets aside federal contracting dollars for participating companies.
$66 million in dividends
The report surveyed 20 Native 8(a) companies, including 13 Alaska Native corporations. Not included are some Alaska Native heavyweights with a history of returning big dividends and other benefits to shareholders, such as Arctic Slope Regional Corp. on the North Slope or CIRI based in Anchorage. Those companies aren't members of the Washington, D.C.-based, Native American Contractors Association.
Because of the limited participation in the survey, the benefits to Native communities are larger than the report shows, said Jennine Elias, the group's spokeswoman.
The report does include wealthy corporations such as NANA Regional Corp. in Northwest Alaska and Chugach Alaska Corp. in a section of Southcentral.
The 20 respondents reported receiving $3.7 billion in federal contracting dollars in 2010. That's about half of the total federal contracting dollars — $7.6 billion — that went to all Native 8(a) companies that year. By 2011, that amount had fallen to $6.8 billion.
That's the first such drop in years, and it comes because Native firms received less of the no-competition contracts. The change follows a 2010 measure introduced by McCaskill that resulted in increased scrutiny before such defense contracts are awarded to Native corporations, said Elias.
"That's had a huge chilling effect on the number of sole-source contracts awarded," Elias said.
The income went to good use, the report says. The Native companies distributed $66 million in dividends to their shareholders and $15.3 million in scholarships.
All dividends reported in the study were paid by Alaska Native companies to about 55,000 shareholders, Elias said. The size of the dividend varied by corporation, but, on average, each shareholder received about $1,200 that year.
The surveyed companies employed 56,000 people worldwide. Only 3,000 of those, about 5 percent, were Native.
The companies also invested $24 million into their reservations, villages or other community projects.
Examples include:
•In Southeast Alaska, Haa Aani, a subsidiary of Sealaska, created oyster farms to be owned and operated by shareholders. The company is also refurbishing an old-fish processing facility to create three dozen new jobs in Kake village.
•In addition to providing regular dividends, NANA in Northwest Alaska established a special trust to support elders on fixed incomes and announced the first payout this year, $2,000 each for shareholders 65 years or older. Other corporations have also created such trusts.
•The Bering Straits and Sitnasuak Native corporations in Northwest Alaska created a wind farm near Nome to reduce soaring electric bills in the area.
The report also highlights smaller companies such as NIMA, a village corporation representing about 300 shareholders on Nunivak Island in the Bering Sea about 600 miles west of Anchorage.
An 8(a) subsidiary of the company called North Island, headquartered in Virginia, has received hundreds of millions of dollars in federal contracts largely to provide construction work at military bases around the country.
In 2011, NIMA used some of its profits to provide over $40,000 in scholarships to shareholders, according to the report. That year it also paid a dividend of $2.25 per share, or about $225 to the average shareholder, said Lou Hala, chief executive.
It's also helping Mekoryuk, the Cupig village of 215, in multiple ways. For example, with this winter's heavy snows threatening to close the village airstrip — the island's only transportation to the outside world — NIMA's bulldozer often kept the runway operational when the state Department of Transportation couldn't do the job.
Contact Alex DeMarban at alex(at)alaskadispatch.com
For more stories from Alaska Dispatch, click here