Rural Alaskans seeking alternative to pricey heating oil return to firewood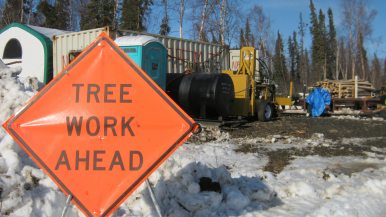 When Mark Leary loaded up his truck one day last winter in Bethel, Alaska, heavy with as much firewood as he could pile into the bed, he was making what had become a ritual twice-daily drive atop a frozen river into the heart of Western Alaska.
The 2011-12 winter had delivered weeks of subzero temperatures to the region. Thermometer readings of minus 10, 20 and 30 degrees F were becoming as predictable as dawn. Rural families struggled to keep their homes warm, and he was on a mission to help them.
Stove fuel in Scammon Bay, a town of about 500 people one mile from the Bering Sea, sold for $7.33 per gallon during the winter. By July, it had risen to $7.41 and residents feared prices may continue rising this winter.
With one of the longest, coldest, wettest winters on record, Alaskans across the state felt the pinch of making dollars stretch. And in the small, remote communities that dot Western Alaska, where dollars are already hard to come by, isolation and hardship magnifies the pain of each new financial strain. At $7.41 per gallon, it would take more than $2,400 of stove oil to heat an 800-square-foot, moderately insulated home. Wood selling at $500 per cord could heat the same home for slightly more than $1,600.
'Great demand'
If Leary has his way, a growing firewood business based in Napaimute, a mid-river community situated like a fulcrum between forest and sea, may provide a silver lining for a region in search of new ways to thrive. There would be much-needed jobs for Interior villages many miles distant from the bustling hub of Bethel and much-needed wood for similarly distant coastal villages closer to the sea. This summer, after years of hand-felling trees and cutting them to size, the operation expanded. It got a big new piece of mechanized heavy equipment, and a timber-hungry buyer.
"There is great demand. And we can't meet it the way we've been doing it with a bunch of guys with chain saws in the woods," Leary said during a recent interview in Anchorage. "It's about building an economy but also helping people with a more affordable alternative energy source."
Leary's daily journey last winter from Bethel along the Kuskokwim River ferried him through different worlds — the flat, wide coastal communities of the river delta, and the mountainous, wooded up-river communities farther inland. The hum and opportunities of city life contrast with the tough realities of villages where survival can come at great cost.
$250 for a sled of wood
For years, Napaimute, a part-time community with only one year-round resident, has harvested wood from its land and hauled it to Bethel, a larger regional hub, for processing and distribution. Last winter, so many people wanted wood the business couldn't keep up, Leary said. The business could have sold all its firewood in Bethel, where it owns storage facilities and equipment, but Leary felt a responsibility to get wood to people in the river's smaller communities who also needed it — hence the twice-daily truckload deliveries.
In the timber world, cords (a volume of wood 4 feet wide by 4 feet high and 8 feet long) are the standard unit of measurement, but Leary scales his sales to everyday living. Instead of cords, he sells "sled loads." For $250, customers can buy as much wood as they can pile onto a sled. Generally, they get one-third of a cord. Sometimes half. But they leave feeling they've gotten a good deal, even though in Southcentral Alaska a cord of wood — triple what the sled haulers get — can sell for roughly the same price, sometimes less.
Each day, in the early morning hours of his daily rounds to deliver wood to people along the river, Leary would see an old man with a skinny dog pulling a single alder branch. The image of a 20-foot-long, 2-inch-wide branch being schlepped across the snow by scrawny dog power interrupted his drive morning after morning. It was, Leary presumed, a daily trek by the man to gather enough wood to heat his home one more day. One morning, the man flagged him down. "How much?" the man asked, pointing to Leary's truckload of wood. The man didn't have the $400 Leary offered to sell it for, but said he would try to get it.
A few days later, the man called. He had scraped together the money. But Leary couldn't help. By then, he'd sold every last log of wood.
'Our region is dying'
"We are just trying to survive," Leary said of the business venture and the 15 workers he employs. "Our region is dying. It's dying in the Middle Kuskokwim in particular. People are moving away. No one is living off the land the way they used to."
Not long ago, Leary and other tribal members of Napaimute had hoped to revive the fading village. In 1920, it was home to the first territorial school on the Kuskokwim River. Back then, gold prospectors and trading posts kept the valley buzzing with activity and it once boasted of population of more than 100 people. But by 1969, the last full-time resident of Napaimute — the Yupik word for "forest people" — had moved away. A few years later, one family moved back and re-established it as a permanent site. In 2001, the village established a saw mill, using white spruce and birch growing all around to its advantage.
Currently, Napaimute's approximately 80 tribal members remain dispersed across the state and Lower 48, returning only to log, hunt, fish or spend time in camps. There are a few home sites, many with wells, a few tribal buildings and runway — all paid for, as Leary tells it, without "welfare." He wears this self-made ethic that helped rebuild the village as a badge of honor.
Leary once hoped logging would be at the center of Napaimute's revival, but he now thinks the wood business may have to relocate. Barges had a difficult time getting to Napaimute without getting stuck, and he found that he has to shell out a lot of money to feed workers and put a roof over their heads when they stay in camp. If he can find a way to move the operation to a full-time community downriver, he will.
This year was an eye-opener for Leary and his crew, who found themselves scrambling to harvest, cut, stack and ship 1,000 cords of wood down river to a buyer who planned to distribute it to 20 coastal villages in Western Alaska as a public service.
Local steam
Coastal Villages Region Fund (CVRF) represents 20 of 65 communities that are part of a federal program called Community Development Quota. The fund has purchased wood for member communities before. Over a three-year period, it ordered more than 4.5 million pounds of spruce bark beetle kill from the Kenai Peninsula that was barged to the region. But this past year was the first time it kept the business transaction close to home.
"We think it's a great fit," said Dawson Hoover, a project manager with the Anchorage-based fund. "In the long run, it will help not just our communities, but the communities up river — the people that need jobs."
The fund did more than place a bulk order for wood. It also purchased the new harvester Leary's crew is using to speed the process of taking down trees, removing branches, and cutting them into uniform lengths. Napaimute hopes to earn enough to ultimately buy the harvester itself.
"They stuck their neck out. They believed in us even when I didn't," Leary said.
It's common for people in these communities to chop up wooden shipping pallettes to burn. And, Hoover said, in Toksook Bay, small bundles of wood that sell in Anchorage for maybe $6 at the gas station cost as much as $25.
In his travels, Hoover has seen planeloads of wood sitting on runways, ready for quick sale. And he has heard from villagers so desperate for warmth that they resorted to opening up their kitchen oven doors as a heat source.
Beyond offsetting the cost of heating oil, wood can can provide heat for community steam houses, which may be even more important, Hoover said. Many of the communities in CVRF's region lack running water, so residents gather fresh water from lakes or collect rainfall.
Steam houses have been a traditional way rural Alaskans have bathed and socialized for generations. Ample wood means rural residents can clean up more often, which meets a public health and hygiene need more than it does one of luxury. "Helping a lot of people — that is the intent of the program," Hoover said.
Business heats up
Harvester operator Joey Evan was thankful the heavy workload wrapped up before the start of moose hunting season this fall. Evan lives in Lower Kalskag, a Kuskokwim River village 54 miles downriver from Napaimute. Being close to home let him spend more time with his five kids and attend important community events. When he first hooked up with Leary, he had no idea what lay ahead.
"One of my friends was working with him," Evan said. "I went up one winter and thought I would be around only during the day. I ended up camping. Ever since then, I've been stuck with him."
He called his days spent "pushing buttons" on the harvester and adjusting the on-board computer settings an "eye opener." He was impressed to see how much wood they were able to cut. "We just took it one day at a time. One tree at a time," he said.
Leary takes pride in the family connections his crew maintains in the growing logging operation. "Napaimute was the only place with something going on. I was getting calls daily from people looking for work. Especially people who are young," he said. "If you give them opportunity, it changes their life. Otherwise they end up in a rut."
As Napaimute moves closer to becoming a full-time community, Leary believes all aspects of the burgeoning business will be better served. He'd save on the expense of housing and feeding the crew. With airports served by regularly scheduled flights, it will be easier to get replacement parts. And, his employees will have a better chance at not missing out on the parts of life that a job away from home cannot fulfill.
"You have to accommodate what's going on in their personal life: funerals, kids' first days of school, anniversaries. I am all about making sure we keep families together."
Several members of Leary's work crew have in the past worked at the Donlin gold mine, located farther upriver near Crooked Creek Village at the site of the one of the world's largest undeveloped gold deposits. But the two-weeks-on, two-weeks-off schedule grew old, he said. It was good work, but workers missed out on half their families' lives, he said.
In addition to the wood his crew harvests from land Napaimute owns, Leary will buy what individual gatherers far upriver collect and float as "rafts" down to Napaimute. Some people earn a few hundred dollars this way, he said. Others take in thousands.
Successfully expanding the timber operation will mean a look at harvesting beyond his home village's land, a prospect which may hold promise. The Kuskokwim Corp. owns hundreds of square miles along the river corridor, and the state owns a small amount, too. He's learned in recent years that forests in this area are mature, with old growth trees that are prone to rot, wind snap, pests and fire. With this in mind, logging does more than just create jobs.
Moose returning
"It's not pretty. But we are not just cutting down trees to make money. We are managing the resource, preparing the harvest area for regrowth," Leary said. Grass grows in quickly, and moose are already starting to move in. Prior to the cuttings, the animals were more scarce.
Looking forward to 2013, Coastal Villages Region Fund has already said it would like to buy 1,500 cords of wood – 50 percent more than last year, which itself represented a five-fold increase over the few hundred cords Leary and his crew were accustomed to pumping out. In addition to serving the new bulk buyer, Leary is mindful his own region still needs cut, packaged firewood for individual sale. He'd like to keep both sets of customers happy.
Leary estimates he could easily sell more than three times that amount in lower river and coastal communities. That's consistent with a study by the University of Alaska's Cooperative Extension Service, which found that in 2005, Kuskokwim region residents burned between 4,500 and 13,000 cords of firewood each year. Nearly all households were using oil or diesel for heat, while a little more than a third were supplementing that with wood. Now, in 2012, as Leary works to expand his operation, he's hearing that sales of wood stoves out of Bethel are on the rise.
Ironically, in the immediate needs of day-to-day living, wood may be even more precious in the short term to locals than the gold Donlin is looking to extract. One of Leary's customers travels 52 miles to harvest wood near the Yukon River's tree line, hauls it back for sale in his own village, then, with the profits, makes his way to Bethel to buy a personal stash of wood for himself from Leary. It's an example, Leary said, that supply and demand demonstrates he could make bigger profits. But he doesn't want to. Warming homes, creating jobs, and cultivating a one-of-a-kind operation — a mechanized logging operation off the road system yielding the village's largest harvest ever — is plenty enough.
"It's not about getting rich. It's about helping," he said. "This is the real thing. We are working, giving these guys some pride. They are proud. They did something that had never been done before."
Contact Jill Burke at jill(at)alaskadispatch.com
For more northern stories from Alaska Dispatch, click here