Alaska Natives focus on food security and self-determination at convention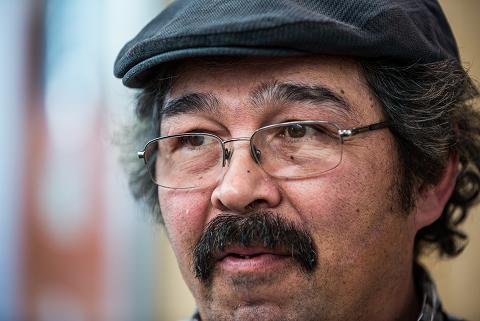 Attorney John Sky Starkey said out loud Thursday what Alaska Natives have known for decades, if not longer: "Other people can't be in charge of managing your life."
A panelist on an afternoon work session on subsistence hunting and fishing rights at the Alaska Federation of Natives convention in Anchorage, Starkey articulated what nearly everyone in the third-floor main meeting room had to be thinking: "If Alaska Natives are not the ones who are managing those rights then eventually, those rights disappear."
The conversation comes as Alaska Natives are increasingly feeling that their way of life, customary and traditional practices including the gathering and sharing of food, are being criminalized.
Over-regulation?
This summer, fishermen on the Kuskokwim River found themselves living out the conflict from their boats and nets, entangled in criminal enforcement for fishing when they weren't supposed to.
One of those men, Sam Jackson, a heavy equipment operator and second chief in the village of Akiak, traveled to Anchorage to defend his choice to fish when he was told not to by state of Alaska personnel managing the salmon runs.
"I went down to exercise my God-given right this summer," he explained after testifying at the work session. Where the media had characterized the "fish-in" as a type of civil protest, it wasn't, he said. "I was exercising my traditional rights to survive and to fish. I had to put food on the table somehow."
He told session attendees how and he and his wife care for their 2-year-old grandson. Despite offering the toddler food kids typically enjoy — Gerber cereal flakes mixed with applesauce — the child routinely rejected it, preferring instead to make his way to the refrigerator and pull out a tub of dried salmon.
When villagers first learned about a seven-day prohibition on fishing — the result of attempts to protect the annual king salmon migration, which crashed statewide in 2012 — they agreed to abide by it. But when a second, five-day closure was subsequently announced, elders counseled their fisherman to go out and fish.
June is traditionally the best time of the summer season to dry fish. The days are long and warm, and flies are scarce. But deeper into the summer, rains and black flies appear, making it difficult to dry fish without molding, Jackson said.
The day he went out, he got busted before he'd even caught any fish. And troopers seized his fishing gear, a net handed down to him by his grandfather.
As the November trial approaches, Jackson remains firm he was in the right, and plans to fight the charges. "There's no way I'm going to roll over on it," he said.
He'd actually prefer a jury trial, but has been told the case will be handled like a minor traffic ticket, making a judge the sole decider about whether Jackson did anything wrong.
Jackson is among 24 fishermen yet to go to court who had their cases mysteriously reduced from misdemeanors to non-criminal citations, according to Myron Naneng, President of the Association of Village Council Presidents, who acted as a moderator for the work session. Of 61 total citations issued, only one was thrown out — a case where a language barrier with a Yup'ik-speaking elder prevented the court, which had no translator, from conducting its business. Many fishermen have pleaded guilty to reduced charges and paid small fines to make the cases go away. But 29 remain outstanding and are headed to trial, according to Naneng.
Community rallies
Lucy Williams Olick, also a resident of Akiak, was among those out fishing during the closures and remains angry over what took place.
"We fought to protect our men, but they still got cited," she told the audience and work session panelists. And she had a message for the State of Alaska and the law enforcement teams that visited the river this summer: "You have no business running my life. I am the one that should (run my life) because we do not go beyond our means and we don't overtake. Stay out of my life!"
Her remarks, which clearly hit an emotional note with the crowd, were met with a strong round of applause.
Fight for Native subsistence rights stretches back decades
But getting Alaska Natives into a position where their voice is not only loud, but matters and commands authority, will take time, along with a multi-pronged attack on state and federal laws and regulations that seem to have kept the debate in stasis and Native Alaskans' aboriginal rights at bay.
In the audience, a living symbol of how far the fight has come and how far it has yet to go, 97-year-old Katie John watched the dialogue unfold. A subsistence rights activist from the 1970s who fought the denial of her ability to fish at her traditional camp while commercial and sport fishermen downstream were granted access, legal aspects of the court battles that ensued are still making their way through the courts today.
Her granddaughter, Kathryn Martin, vice president of Land and Resources for Ahtna, Inc., from one of the few regions where Alaska's Native villages are accessible via the road system, spoke about the problems her people have had under the state's view on "equal access to resources by all Alaskans," a right guaranteed residents under the state constitution. Hunters from outside their region, with valid permits in hand, are notorious trespassers in Ahtna lands, and don't always behave well when asked to move along, she said. And her people, who scrape together enough money to take part in seasonal hunts, are offended by the sight of planes, all-terrain vehicles and RVs — luxury items of invading hunters that locals can't themselves afford to buy — that give people with the most money and means the easiest access to wildlife.
"Our people are being deprived of their important food sources and a way of life," said Heather Kendall Miller, an attorney for the Native American Rights Fund and another panelist. She delivered a brief history of the ongoing fight for Native subsistence rights in the state of Alaska. For nearly 30 years, lawsuit after lawsuit has attempted to protect the rural subsistence priority, bouncing between the loss of rights under the 1971 Alaska Native Claims Settlement Act (ANCSA), the intended restoration of Native rights under the Alaska National Interest Lands Conservation Act of 1980, and the Alaska Constitution, which views access to fish and game resources as racially neutral and prohibits rural priority.
"It will never succeed," she said of the legal wranglings and in support of her belief that it's time to seek a solution by amending federal law.
Several practical fixes emerged from the work session. Or, at least, ideas that can be acted upon. They include reversing the extinguishment of aboriginal hunting and fishing rights in ANCSA, enactment of federal legislation protecting Native hunting and fishing rights in Alaska, and demanding Alaska Natives have meaningful and influential voices in any co-management process. This would include creating a tribal seat on the North Pacific Fisheries Management Council, where bycatch in the Bering Sea remains a controversial suspected culprit in the dwindling in-river salmon stocks.
The board of directors for AFN is also recommending an amendment be made to the Alaska Constitution which would specifically articulate and protect Alaska Native hunting and fishing rights.
Contact Jill Burke at jill(at)alaskadispatch.com
For more stories from Alaska Dispatch, click here