Mariners dodging more free-floating ice in Arctic waters off Alaska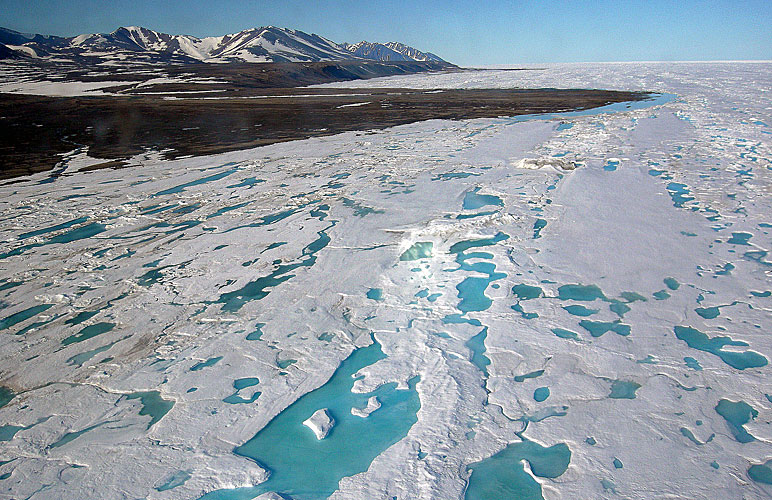 Alaska sailors negotiating shifty sea ice face a one-two punch from icebergs drifting south as the high Arctic melts, as well as continuing Bering Sea cold that produced record levels of sea ice last year.
Kathleen Cole, Alaska's National Weather Service ice forecaster, found herself dealing with both realities in a job that keeps getting busier as interest in Arctic shipping and resource development rise.
Of late, climate change in the Bering Sea has meant cold — and lots of it.
Seven of the last 10 years have produced above-average freezing in the waters west of Alaska, Cole said. Last year, seasonal sea-ice cover and thickness in the Bering Sea were higher than any time since record-keeping began four decades ago. "Just because the temperature of the Earth is warming doesn't mean it will be consistently warm all year" in every spot on the globe, Cole said.
'Get us out of here'
She spent part of her time late last spring on the phone, helping mariners snake through a maze of coastal ice. Using satellite images, she guided vessels toward leads and thinner ice patches. Tugs hauling supply barges to Alaska villages had the toughest time — they prefer to hug coasts when possible but the miserable ice was thickest there.
"I had lot of people saying, 'Where is all this coming from? Get us out of here,' " Cole said.
Typically, climate change means warmth in higher latitudes. That presents growing maritime risks as once-frozen Canadian and Greenlandic islands melt, according to a report from The Globe and Mail in Toronto.
The islands are shedding old, thick ice that can linger for decades. More than 600 square miles has cracked away and drifted south in recent years, an area slightly smaller than the sprawling Chugach State Park in Anchorage's backyard. Roughly half those chunks were spawned from Canada's Ellesmere Island west of Greenland. They could pose a problem for Alaska.
Ice drifting west
"These are ice islands that are drifting to the west, and will be of concern for any infrastructure or shipping in the western Arctic," according to Derek Mueller, an assistant professor at Carleton University, the newspaper reported.
He named offshore drilling sites in Alaska — Shell began drilling in the Beaufort Sea not far away from the U.S.-Canadian maritime boundary earlier this year. Other oil giants have acquired interests in the region.
Ships could also be at risk as maritime travel increases north of Alaska or through the Northwest Passage atop Canada. Boats traveling through the Bering Strait are still relatively few in number, but traffic has doubled in recent years, reaching an all-time high in 2011 with some 400 trips recorded, Coast Guard officials have said.
Experts say the chilly chunks could pose trouble in high seas, too, because some blocks are too small for ship radars to detect. Collisions between ships and ice are rare, but as the Titanic proved about a century ago, they happen. More recently, a shrimp trawler sank off Happy Valley–Goose Bay, Labrador, after colliding with an iceberg a dozen years ago, the Globe reported.
On the other hand, ice-detection efforts by U.S. and Canadian Coast Guards are improving. And by the time much of the ice drifts south, it has disintegrated into pieces small enough to tow away.
Residents near Barrow at the top of Alaska discovered one of those iceberg remnants this summer. The ice islet, about the length of two football fields, snagged on the sloping seafloor about a dozen miles northeast of Barrow. Scientists found it studded with granite boulders, suggesting it had drifted down from higher latitudes in Canada.
"It appears this bergy bit may be evidence" that pieces of ice sheets from record levels of summer melting in the Arctic may be flowing into the Beaufort and Chukchi Seas, Cole said.
The chunk was more than 100 miles away, in both directions, from Shell's drilling operations.
But Shell dealt with its own ice floe this summer. The company's Chukchi Sea operation, about 70 miles off Alaska's northwest coast, was halted for several days in September, just a day after work began in early September, when a 30-mile-long ice island approached.
Shell had been tracking the island for about 100 miles and moved its ships when it came too close. The company saw such floes when it drilled in the same areas in the 1980s and 1990s during an earlier round of Arctic offshore drilling, an effort that was abandoned when oil prices collapsed.
What Shell saw was not an iceberg — it didn't come from land — but multi-year sea ice in the Beaufort, Cole said. Twice in her career she's seen those remnants drift hundreds of miles farther south, passing through the 50-mile wide Bering Strait between Russian and Alaska and into the Bering Sea.
Another icy winter predicted
The Bering is where Cole is expecting the most trouble for now. Frozen conditions there and elsewhere along Alaska's Arctic coasts frustrated fishermen and other mariners last year, she said. Shell's ships, for example, were delayed weeks because of lingering sea ice.
Cole's anticipating another above-average freeze-up in the Bering Sea this winter, given that meteorologists anticipate more sub-zero cold. Cole jokingly wonders if that might end her career.
"If we had another year like we did last year, I'm retiring," said Cole. "I think these ships would start coming after us with pitchforks."
Contact Alex DeMarban at alex(at)alaskadispatch.com
For more stories from Alaska Dispatch, click here