What to expect in second season of Alaska reality show 'Bering Sea Gold'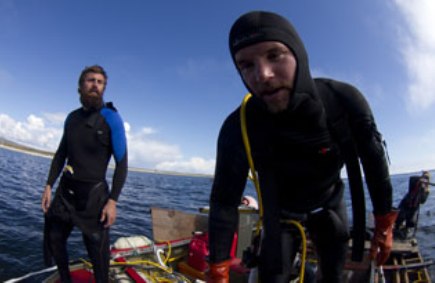 When "Bering Sea Gold" made its debut this past January it proved — with big ratings — that the rest of the world isn't yet sick of Alaska "reality television."
The Discovery Channel series produced by Original Productions, creators of the hit "Deadliest Catch," will once again shine a bright spotlight on gold dredging in Nome, an old and remote Alaska community just south of the Arctic Circle on the Seward Peninsula.
"Bering Sea Gold" returns Jan. 4, and with it prospects of another influx of gold miners hoping to strike it in the waters off Nome.
Gold may be fetching about $1,700 an ounce but Nome should thank Thom Beers for its boom town revival. The New York Times Magazine on Thursday delves into the reality TV empire created by Beers — the chairman and executive producer of Original Productions — which makes him the unofficial granddaddy of Alaska TV.
Beers first made a big splash in the Alaska market with "Deadliest Catch," which chronicles Bering Sea crab fishing and that's enjoyed steady success ever since its 2005 debut. He's also worked on "Ice Road Truckers," a one-off Iditarod documentary, and "The Frontiersmen," an elimination-style reality program set in the Alaska wilderness.
Beers hasn't focused solely on the north, though; he's also produced series like "Ax Men," set in the Pacific Northwest, and "Coal," set in West Virginia. He's one of the most prolific reality TV producers working today.
In the NY Times Magazine article, Beers discusses his approach when it comes to taking hardscrabble, blue-collar professions — like gold mining or crab fishing — and turning them into compelling television.
Writes Charles Homans:
Beers's particular genius is realizing that the sphere of aspirational television could be enlarged beyond the mainstays of wealth, talent, youth and celebrity. That Americans wanted to step into not only the lives they might never live but also the lives they walked away from generations ago.
Beers himself acknowledges his particular brand of reality television programming, discussing new, obscure professions that the general public might take an interest in. Not every one is a hit, but both "Bering Sea Gold" and "Deadliest Catch" have elevated Discovery Channel's profile among the hundreds of cable channel offerings on air.
Rugged reality
There's a downside to this, though: the spikes in interest can lead to people often neither prepared nor capable of attempting the "reality" of Alaska that's depicted in the programs. Officials were concerned in spring of this year about a flood of amateur prospectors setting up on Nome beaches hoping to find gold without the proper permits or equipment. The show also shed some light on potentially unregistered boats operating in the waters near shore.
It's paid off for some, though. Alaska Dispatch writer Craig Medred spent some time in the region this fall and reported that some gold dredgers were pulling in $10,000 each week from the sea floor. The worries about an unmanageable number of fortune seekers proved unfounded, though several hundred amateur miners did make the trek to the Northwest Alaska community.
Additionally, both "Deadliest Catch" and "Bering Sea Gold" are benefitting from Alaska's lucrative film-tax subsidy program, which encourages production in the state in exchange for monetary incentives. "Bering Sea Gold" recently cashed in to the tune of about $322,000 in subsidies, despite paying a little less than $55,000 of that to Alaska hires. The cost of on-screen talent, often among the largest expenses of scripted productions, is much lower for reality television, where the costs come mostly from crew, equipment and logistics.
All of this makes a case for exploitation of Alaska's resources — both natural and monetary — by reality TV productions. But in remote Alaska, where times are tough more than they're easy, the money that comes with national exposure and influxes of visitors and production crews is often happily accepted (or at least tolerated).
Exploitation may be the nature of reality television, though, regardless of setting. This is apparent in the marketing of the second season of "Bering Sea Gold" in TV World:
A group of government officials are hell-bent on putting some order in place — setting new regulations that cause headaches and roadblocks for the entire fleet. With gold rush fever brewing, new miners are drawn to Nome in search of hitting the mother lode. And a sudden, tragic death will make this a summer that no one will forget.
So do shows like "Bering Sea Gold" help or harm Alaska? That's still up for debate, but one thing's for certain: the rest of the world isn't done with Alaska quite yet.
Read more on Beers, in the New York Times Magazine.
Contact Ben Anderson at ben(at)alaskadispatch.com
For more stories from Alaska Dispatch, click here