First Nations chief's call to action answered by Canadians, politicians
Time for the prime minister to 'show some leadership and to extend a hand'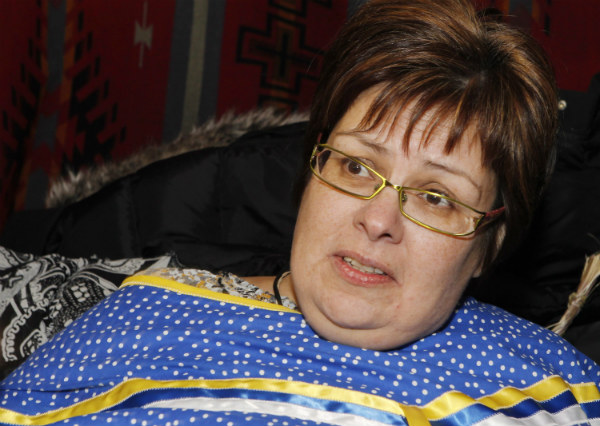 On Theresa Spence's twentieth day of her politically-motivated hunger strike, Canadians and politicians answered her plea for solidarity for her cause to secure a meeting between First Nations leaders and Prime Minister Stephen Harper.
Spence, the chief of Attawapiskat, a Cree community in Northern Ontario, sent Friday a public plea to make Sunday a day of solidarity, asking Canadians to stage protests across the country and petitioning politicians to meet with her in Ottawa, both at 2 p.m.
A number of politicians are starting to make the trek to Victoria Island, Ottawa where the chief is residing in a teepee, including a 15-member delegation from Canada's left-of-centre New Democratic Party (NDP), Valérie Dufour, the NDP's deputy director of strategic communications, told CBC News.
Originally, 17 NDP MPs were expected, Cheryl Maloney, who self-identified as a Spence supporter, told CBC News. However, two expected weather-related delays.
NDP sends MPs to meet with chief amidst health concerns
The group, which will visit the chief at 2 p.m. Sunday, will be led by deputy leader Megan Leslie and Timmins-James Bay MP Charlie Angus.
The NDP has been following Chief Spence's hunger strike very closely, said Dufour. Since the chief started her hunger strike on Dec. 11, she has subsisted on fish broth and tea. Her condition has been worsening, according to a statement released Friday.
"Her condition continues to weaken every hour," read the statement.
On Dec. 18, party leader Thomas Mulcair wrote a letter to Harper asking him to meet with Chief Spence."Please act swiftly to avoid a personal tragedy for Chief Spence," he wrote.
Now, 20 days into Spence's hunger strike, the NDP is "beginning to be very worried," said Dufour. "It's dangerous for her … We're all a bit afraid because she said she's even willing to die for it."
Dufour said Harper should meet with First Nations leaders as soon as possible because it is the only way to settle the matter, adding that Chief Spence isn't asking for much by requesting a meeting with the Prime Minister.
"Now it's time for Stephen Harper to show some leadership and to extend a hand and to meet with the leader," she said.
Spence supporter, Maloney, who forwarded the chief's latest statement, said she was not authorized to speak about Spence's condition. She said it is getting harder for the chief to host visitors and conduct interviews. The chief has been resting to prepare for Sunday's guests, which includes 15 NDP MPs, two Liberal MPs and three Liberal senators.
"[We] haven't heard anything from any Conservatives at all," she said.
Former PM visits Chief Spence
Former Canadian prime minister Joe Clark visited Chief Spence Saturday afternoon, following her open invitation.
In a statement after his meeting, Clark said that "there is a general concern that First Nations – Canada relations are headed in a dangerous direction."
'First Nations – Canada relations are headed in a dangerous direction'—Joe Clark, former Canadian prime minister
People no longer active in political life may have to help support "the resumption of productive discussions," he said.
"Chief Spence expressed a humble and achievable vision – one which I believe all Canadians can embrace," he said, adding honest dialogue and mutual commitment can carry-out her vision.
Idle No More rallies planned across Canada
Meanwhile, Canadians are organizing rallies in a show of support for the chief.
"Groups are responding in a big way," said CBC's Shannon Martin. At least half a dozen events are planned for Sunday across Canada.
The Idle No More movement — which has hosted several demonstrations in past weeks and is loosely tied to Chief Spence's protest, as it aims to repair existing violations to the treaty relationship — has planned a rally in Toronto, Ont., in response to the chief's call for action. Participants will gather near the Eaton Centre for a "round dance flash mob," according to the Toronto chapter's Twitter account.
Various rallies and demonstrations supporting Chief Spence also took place yesterday in Oklahoma, Washington, Cincinnati, and Regina — where a four-day hunger strike is underway, said Martin.