UPDATED: Orcas trapped by ice in northern Quebec, Canada have left, mayor says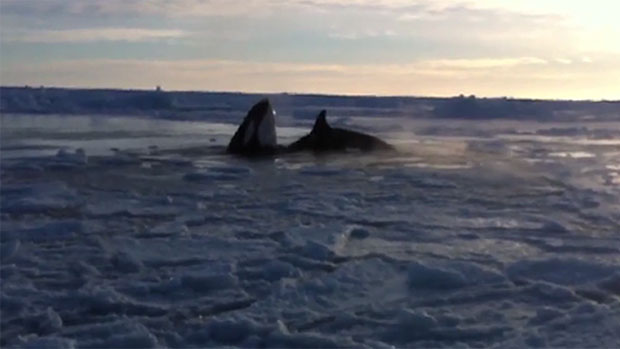 The killer whales trapped in the ice in northern Quebec, Canada appear to have left the area, says Peter Inukpuk, the mayor of the nearby village of Inukjuak.
His comments came this morning as experts were said to be en route to the scene to help free the whales.
On Wednesday, residents of an Inuit village called for the government's help to save a dozen killer whales trapped in the ice about 30 kilometres off the coast of Inukjuak, Que.
The orcas were spotted at a breathing hole at the eastern top of Hudson Bay.
When two hunters went to check the ice Thursday morning, they discovered the whales were gone, according to Inukpuk.
He said elders in the community credit the new moon, and changing tides and currents for shifting the ice.
A team of experts sent by the federal government had been expected to arrive in Inukjuak on Thursday.
It's unknown if the government has cancelled its plans.
A spokeswoman for the Department of Fisheries and Oceans, Nathalie Letendre, said Wednesday that it's not unusual for marine mammals to become trapped in ice.
For more northern stories from CBC News, click here