Opening the Arctic: Spending, planning should match risks, national priorities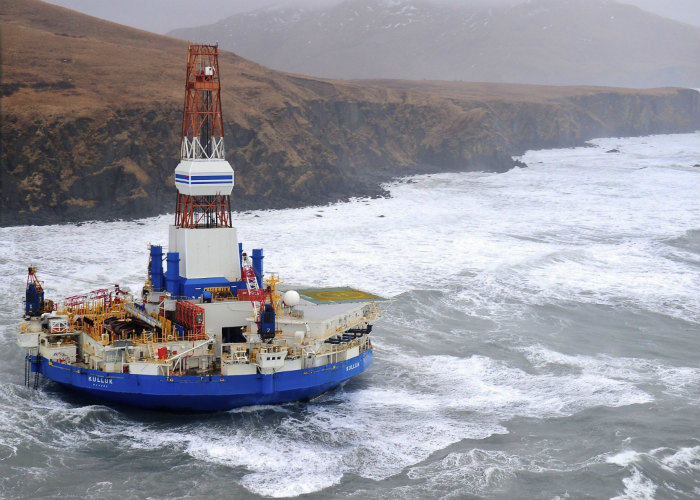 Two weeks ago, in harsh Alaska weather, the offshore oil drilling unit Kulluk was separated from its tow and drifted toward the Alaska coast, where it grounded on a rugged shoreline.
Thankfully, the Kulluk has been recovered and is now safely at anchor.
The environmental threat posed by the mishap of that impressive vessel was limited to the fuel on board, but its mishap does remind us that things can go wrong. Imagine an incident on the scale of the Deepwater Horizon tragedy … in the Arctic.
In this austere budget climate, it may be unrealistic to expect increased funding for oil spill response. But spending choices should match national priorities and our collective appetite for risk, and the responsibility that accompanies a reduced level of resource support for oil spill response is understanding that we're accepting a correspondingly higher level of risk.
Working with international partners
Our Canadian and Mexican neighbours have worked with us for years to be ready for spills in the lower Alaskan and Canadian latitudes and in the Gulf of Mexico. Bilateral agreements with both countries outline joint response systems and identify agencies from each country that will provide support in carrying out the objectives of the plans, and biennial exercises involve scenarios with major oil spills that threaten coastal areas of participating countries. Although all parties work hard to prevent such calamities, readiness to respond is vital.
International cooperation only makes sense: spilled oil will not respect international boundaries. The joint Mexico-US, or MEXUS, plan is intended to "prevent, control, mitigate or eliminate the threat of an incident, to minimize adverse effects to the marine environment, and to protect public health and welfare." As our resource-rich Arctic backyard opens rapidly to new uses, it's essential that we prepare to do the same there.
There's much to be done. Substantial differences between the Arctic and the Gulf of Mexico begin with the most obvious: The weather in the Arctic, despite the notion that the term "warming" provides, creates a challenging environment. It's not that warm. Infrastructure is extremely limited.
In contrast, the Gulf of Mexico has been home to a rapidly growing offshore oil and gas industry for decades, and has a large, well-developed support infrastructure, including numerous spill clean-up companies. In the Arctic there is very little of this infrastructure, and the area is extremely remote. (Go ahead and find the town of Kaktovik, Alaska, on a map; then look for the closest settlement.)
Lack of infrastructre major challenge
Transportation of personnel and equipment, berthing, food, water, shelter, decontamination, and communications capabilities will be a monumental challenge for a large scale response operation. Port facilities can accommodate only shallow draft vessels, and airfields have only short, gravel runways. A lack of road systems and a complete dearth of hotels for lodging and staging capability complete the picture.
Spill response exercises in lower Alaskan and Canadian latitudes have consistently noted the limited infrastructure, logistical challenges of large responses, and lack of resources for exercise planning and participation. As the Arctic opens up to navigation and resource exploration, these problems are exacerbated and risks increase, making it more important that we invest in planning and spill response capability, and fund a regular exercise schedule involving all parties (industry, state, tribal and federal.)
Bureau of Safety and Environmental Enforcement Administrator Jim Watson has said, "It is our highest priority that any activities that occur offshore Alaska be held to the highest safety, environmental protection, and emergency response standards." He further stipulated that companies seeking to extract oil "will not be authorized to drill into areas that may contain oil … until the required spill containment system is fully certified, inspected, and located in the Arctic." Shell, having spent the summer drilling exploratory starts in the Chukchi Sea, will not be allowed to proceed further until its containment system is certified.
Engaging with industry
No company wants to be responsible for a disaster, and consequently they develop comprehensive preventive measures. But preparedness requires a partnership between industry and government. To be unprepared for the worst at the government level, is to make a de facto decision to accept significant risk.
In the Arctic, currents will prevent any spill from remaining in one place, and thus the eight Arctic Council nations have chartered a Task Force to prepare an international instrument on Arctic pollution preparedness which will identify areas for cooperation and information exchange, and make recommendations for prevention and response. Planning for a major incident requires regular international liaison and information exchange before the incident.
We must understand the risks associated with oil exploration and production in the Arctic and take appropriate steps to mitigate the risks we can, and make an educated decision to accept, or refuse to accept, those that we can't. If we want to safely exploit the resources of the region, it's imperative that we invest in spill response planning and capability as a basic risk mitigation, and build a comprehensive, collaborative, and responsive planning system. The law requires this system, but a critical lack of resources inhibits progress.
Captain Peter Troedsson is military fellow, U.S. Coast Guard, at the Council on Foreign Relations. Before joining CFR, he served as chief of staff of the Eighth Coast Guard District from June 2010 to July 2012. Prior to that, he served as chief of the the Eight District's Response Division, managing its programs in search and rescue, security, law enforcement, and oil and hazardous materials spill response.
For more stories from Alaska Dispatch, click here