Sweet dreams at Finnish snow castle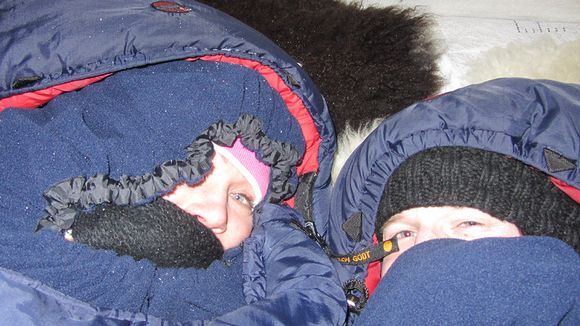 An iconic snow castle in the northern Finnish city of Kemi has hosted visitors from more than 32 countries since it opened its icy doors back in January. Within one month of declaring itself open for business, the hotel has welcomed guests from China, the Netherlands and Italy, among other countries.
According to its proprietors, the Kemi snow castle accommodates between 1,000 and 1,400 overnight guests every year. This year, the hotel has 21 rooms for overnight stays, including a luxury suite.
Visitors who intend to brave the arctic fairytale castle are informed that the temperature in the hotel rooms is around -5 degrees Celsius. However the hotel provides its guests with rugged fleece-lined sleeping bags made especially for arctic conditions, along with a fleece sheet for extra warmth.
"Normal thermal underwear and long socks should be enough. A woolly hat is also important because the body loses a lot of heat from the head. You can even find that you become too warm in these sleeping bags, because they are designed to withstand temperatures of up to -45 degrees Celsius," explained hotel worker Karoliína Kakko.
Guests are advised to place their outerwear between their beds and lambskin provided to ensure that they are toasty warm the next morning. Getting into the sleeping bag once undressed however, is another matter altogether.
"Before getting into the outer sleeping bag, guests should wrap themselves up in the fleece liner. Then the fun begins, as they have to worm themselves into the sleeping bag. Once they've done that, they can zip themselves up and tighten the drawstring around their heads. Now the cocoon is ready," Kakko quipped.
Nighttime visitors: deer and owls
Once she has advised the visitors on how to bed down for the frigid castle sleepover, Kakko guides them to their rooms. Yle News reporters Karoliina Haapakoski and Risto Koskinen took up the snow castle overnight challenge.
"The room is rather grand. Images of deer and owls sitting in trees have been engraved into the snowy walls of the room. The lighting creates a special atmosphere, making the cosy beds look even more inviting," said the intrepid Yle pair.
Despite some initial hesitation, the reporters manage to get themselves ready for bed. Once the lights have been put out and silence has taken over, sleep comes easily.
"I slept really well and didn't get cold at all," Haapakoski declared.
"I even felt warm during the night and wok up a few times during the night," a surprised Koskinen said.
The duo declared that they enjoyed the experience so much, they would repeat the experiment.
The Kemi snow castle is open until April 07.
For more stories from Yle News, click here