The Arctic Circle, Wayne Gretzky, and the Future of Arctic Cooperation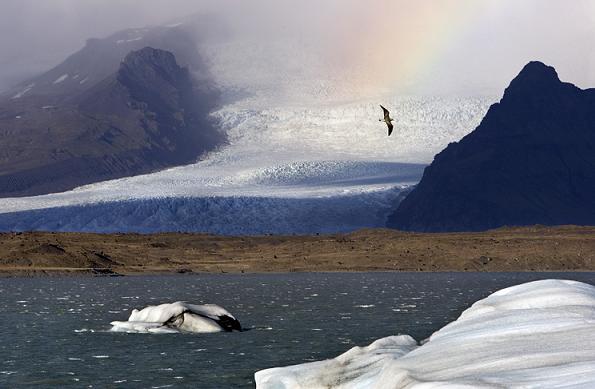 The big news in the Arctic this week came from Iceland's President Grimsson, who announced at the National Press Club in Washington on April 15 the establishment of the Arctic Circle, a new global forum for addressing the challenges facing the rapidly-changing region.  The premise seems to be that it is a more inclusive forum than the Arctic Council, and won't sideline non-Arctic states such as China, and Singapore, that have applied to be observers in the Council but have seen official responses to their requests delayed, and then delayed some more.  President Grimsson is a known Sinophile, and it is no coincidence that China and Iceland signed a free trade agreement on the same day the Arctic Circle was announced.  He has publicly advocated for more and better cooperation with Asian and European stakeholders when it comes to Arctic issues, given the global implications of environmental and economic events that occur there.  Its first meeting will be held in Reykjavik in October.
As Paul Koring of the Globe and Mail wrote, it is "a move that seems certain to irk some northern nations", not least Canada, which may feel that some of the wind has been taken from its sails as it prepares to take over the Chairmanship of the Council.  I expect the brand new Director of the Arctic Council Secretariat will be similarly nonplussed. The announcement also seems to come a month too soon: might we have waited to see if all or any of the Arctic Council's suitors – China, Italy, EU, Japan, South Korea and Singapore – are actually admitted to the Council at the Ministerial meeting next month in Kiruna, Sweden?  Do the Asian and European contenders dare to publicly join the Arctic Circle before their fate in the Arctic Council is known?  Or does President Grimsson know something that the rest of us are still just speculating about.  While Grimsson made sure to point out that the Arctic Circle isn't a rival or replacement for the Arctic Council, it will be perceived as attacking the Council's structure.  More to the point, the Arctic Circle might be seen as a response to the Arctic Five, the exclusive club of the five Arctic littoral states that irked Iceland, Finland and Sweden back in May 2008 when the Ilulissat meeting was held, and again in 2010 when Canada hosted the group in Chelsea, Quebec.
The Pros and the Cons
That said, there are good arguments for and against this kind of forum.  On the negative side, it will be viewed as superfluous.  The Arctic Council, with all of its self-imposed limitations, isn't the only game in town.  Norway initiated Arctic Frontiers, held annually in Tromsø, back in 2006 with the goal of building partnerships and supporting dialogue on Arctic issues.  If the Arctic Circle is to be perceived as anyone's competitor, it looks to be Arctic Frontier's.  I can also confirm that the EU and China don't seem to be excluded from the myriad Arctic policy conferences that take place every year; to the contrary, it's all the rage to have a European or Asian representative give their academic or official perspective, raising doubts as to the need to establish a separate forum to secure their participation.
On the positive side, how can more cooperation and discussion be a bad thing?  We may, collectively and individually, have short attention spans, but just because people are already hosting conferences and talking about issues such as oil and gas drilling and shipping regulations doesn't mean there isn't still a tremendous amount of work to do on those fronts.  Inasmuch as the Arctic Circle can bring momentum to these kinds of issues (it lists its main topics of interest on its website), it should be welcomed.
The real problem with this week's announcement is that it does nothing to garner attention to where public policy discussions should be focused, but this is a symptom of a much larger Arctic cooperation problem.  The Arctic epistemic community seems to have coalesced around energy, security, shipping and climate experts, and this group is in danger of dominating Arctic policy discussions even when those issues have evolved or others have sprung up. Canada is appropriately focusing its Chairmanship agenda on human development, but the conversations, and linkages, around strategies to address socio-economic challenges have to start involving very different actors at much different levels of governance: sub-national governments like Yakutia and Lapland, and Alaska and Nunavik, where policies are implemented and will fail or succeed.
Some readers will know that a forum for this already exists – the Northern Forum, which was officially established in 1991 as part of a wave of Arctic cooperation that succeeded the end of the Cold War.  It is a mystery to me why it is never spoken about, heard about, or leveraged to address the challenges of the Arctic that we so often talk about, but rarely address in any concrete way.  The alternative to better sub-national cooperation is that northern communities slowly reinvent wheels to address challenges they all face, at great human and financial expense.
The Good Opportunities and the Great Opportunities
Wayne Gretzky famously said that a good hockey player plays where the puck is, but a great hockey player plays where the puck is going to be.
The Arctic Circle is playing the puck.  It's talking about what everyone is already talking about – oil and gas, sea ice, shipping and indigenous rights – and it's bringing the same players to a different table.  It might turn out to be a really good forum.  But the next great phase in Arctic politics has to be about building cooperation between sub-national and sub-regional organizations in the circumpolar north to promote north-to-north knowledge dissemination and effect socio-economic change at the local level.  The Northern Forum has been standing in front of the net for twenty years, but no one has passed to it yet.