New leadership for Shell's Arctic operations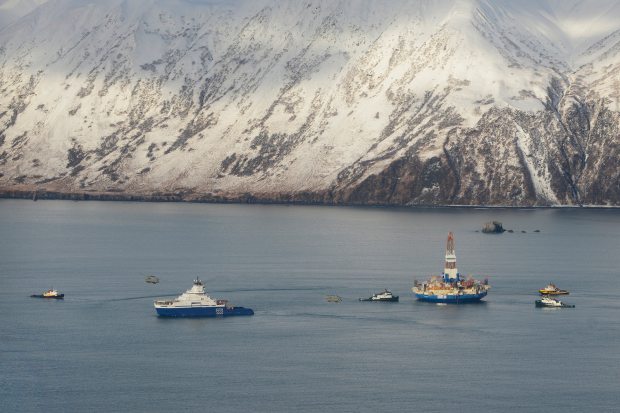 Four months after a Royal Dutch Shell drillship ran aground in Alaska, raising questions about the company's offshore drilling operations, the oil giant has appointed a new executive in charge of Arctic operations.
Ann Pickard, currently chairwoman of Shell's Australian operations, will begin overseeing Shell's Arctic operations in June.
Pickard will take over as executive vice president of Shell's "Arctic, Upstream Americas" — part of a restructuring within Shell that separates Arctic operations from other divisions, said Shell spokesman Curtis Smith in an email Wednesday.
The change in leadership comes in the wake of a series of mishaps with the company's Alaska drilling program in the Beaufort and Chukchi seas.
After investing more than $5 billion in its Arctic Alaska program, the company has little to show for it. Blunders during the 2012 drilling season, including permitting and technical issues with the Noble Discoverer drillship and the grounding of the Kulluk conical drilling unit, led Shell to halt its 2013 drilling season. The two drill rigs are considered the centerpieces of Shell's Arctic drilling operation in the 49th state.
Following the mishaps, David Lawrence, the Shell executive in charge of North American operations, including in the Arctic, said he was leaving "by mutual consent" after 29 years with the Netherlands-based company.
The West Australian newspaper reports Pickard, the new head of Arctic operations, "transformed Royal Dutch Shell into the most aggressive oil and gas player in Australia." The paper also notes Pickard had a major hand in moving Shell's Australian operations from a "downstream" emphasis of refineries and service streams to one of the industry's most aggressive oil and gas explorers in Australia.
Before taking over there in 2010, Pickard was Shell's regional executive vice president for Sub-Sahara Africa, based in Nigeria. According to Shell, she oversaw the company's exploration and production, including gas and liquefied natural gas activities in the region. Fortune Magazine described her as "the bravest woman in oil" in 2008.
However, her tenure at Shell has not been without controversy. In 2010, shortly before Pickard moved from Nigeria to Australia, diplomatic cables, distributed by the controversial WikiLeaks organization, suggested Shell had placed sources throughout the Nigerian government in an attempt to influence policy. Shell refuted claims of infiltrating the Nigerian ministry.
Despite a halt to the Arctic Alaska drilling program this year, Shell is moving forward with other Arctic endeavors. Last month, the company announced it was partnering with Russian oil and gas giant Gazprom to explore prospects in the Russian Arctic.
Contact Suzanna Caldwell at suzanna(at)alaskadispatch.com