Canada's Arctic patrol ships – A $250M mystery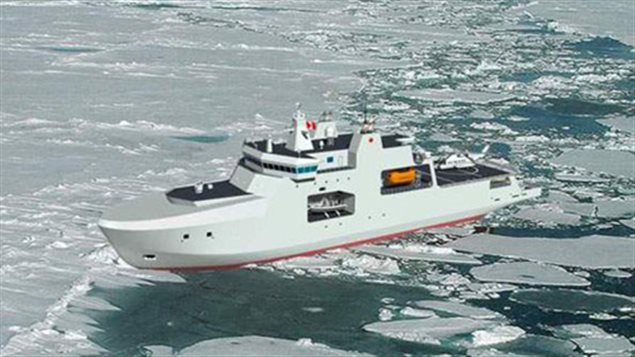 An investigation by the Canadian Broadcasting Corporation (CBC) has uncovered a $250-million mystery at the heart of Canada's ambitious shipbuilding program.
Public Works Minister Rona Ambrose and Defence Minister Peter MacKay announced March 7 in Halifax that Ottawa will pay Irving Shipbuilding $288 million just to design — not build — a fleet of new Arctic offshore patrol ships.
Irving will then build the ships under a separate contract.
However, a survey of similar patrol ships bought by other countries shows they paid a fraction of that $288 million to actually build the ships — and paid less than a tenth as much for the design.
In addition, the design of Canada's new ships is based upon a Norwegian vessel whose design Ottawa has already bought for just $5 million.
The Norwegian ship, the Svalbard, was designed and built for less than $100 million in 2002.
Experts say the design price is normally 10-20 per cent of the total cost of the ships.
Another country with Arctic interests, Denmark, acquired two patrol ships for $105 million in 2007.
They have modest ice-breaking capability, similar to the Canadian project, which allows for the ships to crunch through "summer ice" – about one-metre thick.
The Irish navy now is building two offshore patrol ships for $125 million.
In all cases, these prices include the design.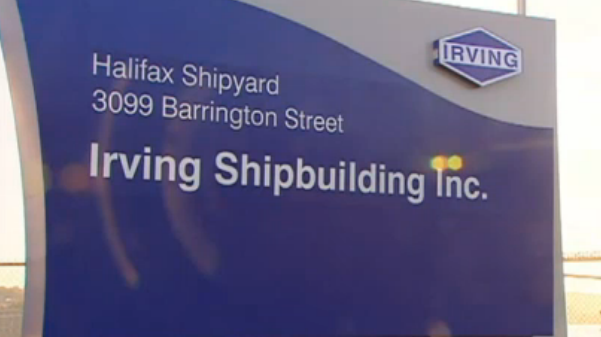 Why is Canada paying more?
Ambrose, MacKay and Public Works officials running the Canadian project were not able to explain why Canada would pay so much more to get so much less: shelling out more than twice as much merely to produce a blueprint for similar ships, without building any.
In an interview, Ambrose referred the CBC to her officials for details. But those officials, in a prepared briefing for CBC News, said they were unable to provide details on where, exactly, the $288 million is going.
CBC News also asked MacKay to explain why Canada would pay Irving 10 times as much for the design as other shipyards say it should cost.
MacKay replied "other shipyards are wrong," and left it at that.
The shipbuilding program has been portrayed by the Harper government as a model of transparency and rigour, in contrast to the ill-fated commitment to buy F-35 jet fighters.
The ship plan has its origins in a 2005 pledge by then opposition leader Stephen Harper that a Conservative government would build three Arctic icebreakers to assert Canadian sovereignty in the North.
In 2007, as prime minister, Harper scaled that back. He pledged instead to build six to eight smaller Arctic offshore patrol ships at a price of $3.1 billion.
Critics dubbed the ships "slush-breakers," but Harper insisted that Canada's stake in the Arctic meant "use it or lose it."
Still, the project encountered many delays, which experts blame on the fact that Canada's shipyards have been in decline for 30 years. They say that recreating a world-class shipbuilding capability, instead of buying ships from foreign builders, is expensive.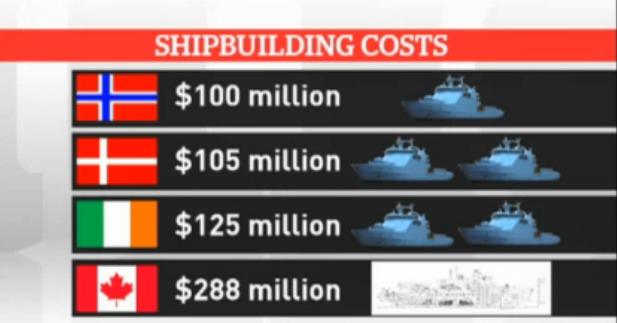 Numbers 'staggering'
The size of the Irving design contract is "inexplicable," according to a senior shipbuilding source, who declined to be identified because his company also does business with the government.
He said the design cost is "obviously vastly higher" than is the case in similar projects overseas.
The government's shipbuilding strategy, he said, "is going badly wrong … [it] will be much more expensive than the F-35 acquisition. It has the potential to be an even bigger fiasco."
Another source with long experience in building combat ships said of the Irving design contract, "the numbers are staggering.… There is no rhyme or reason for such a vast amount of money, especially not without clarity" on where it's all going.
He said $10-15 million would be a reasonable amount, not $288 million.
A third expert with inside knowledge of the design work said of the Irving contract, "I'm choked on that number to say the least."
He said that the basic design for the Svalbard was bought by the federal government for only $5 million.
Although the Svalbard design would need extensive revisions to adapt it to Canadian purposes and produce final blueprints, the expert said those might drive the bill up to $20 million — certainly not to $288 million.
"I have no idea where you find another $200-plus million [just for the design.] That's more than the estimated value of building the ship. As a taxpayer, it doesn't make sense."
As minister in charge of the procurement, Ambrose noted that the new ships are complex, although she did not identify any features that were more costly to design than those in other navies.
Ambrose also insisted that spending more on the design would save money later on.
"We are implementing what's called a design and then build strategy," the minister told CBC News. "What that means is that we are spending more money up front on the design and production phase. That's important because we want to make sure that the shipyards, and the navy, and the coast guard, get the design correct."
However, Ambrose did not cite any other country that fails to design first and build later. Interviews with both Ambrose and her officials were interrupted by government media handlers who cut off further questions.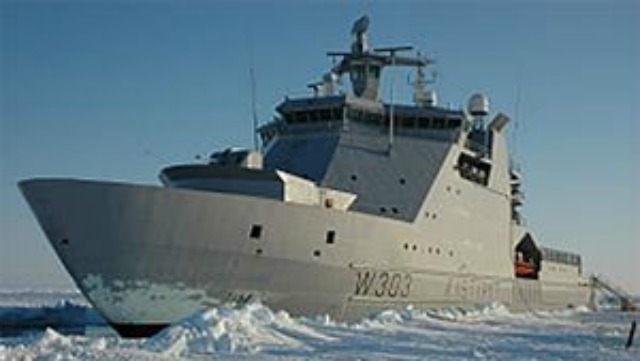 Offshore patrol ships mean offshore jobs
Another criticism of the project is that much of the design work – in a project meant to create Canadian jobs – is actually going overseas.
Although Irving will manage the design project in Nova Scotia, it has subcontracted the actual production of final blueprints to a Danish firm, OMT. Seventy Danish ship architects will work on those.
The job of designing the systems integration is going to Lockheed Martin and the propulsion system will be designed by General Electric, both U.S. companies.
This is only to be expected, say supporters of the project.
"We've been dormant here for better than two decades now. We don't have the skill sets inside the industry," said Ken Hansen, editor of the Canadian Naval Review in Dartmouth, N.S.
Hansen agrees that Canada should develop its shipbuilding capacity, but says it will be costly because "we simply don't have the skills in Canada."
As for whether Canada will, indeed, get the six to eight ships originally announced six years ago, most sources doubt it.
The design contract is supposed to produce a final price for the actual ships. Until then, the government says it doesn't know how many ships it can buy for its $3-billion budget.
But even one ship would be worth it, MacKay said in announcing the design contract March 7.
"This is a new capability," he said. "So if we have only one more ship, that would be one more than we have now in terms of our ability to provide this kind of capability and Arctic coverage."
– Reported by Terry Milewski, CBC News Senior Correspondent
Related Links:
Arctic patrol ship plan headed for 'disaster,' says report, CBC News
Ottawa signs $288M contract for design of Arctic ships, CBC News
POV: Is Canadian-made military equipment worth a higher price tag?, CBC News