Nature tourism in North Finland drawing Chinese tourists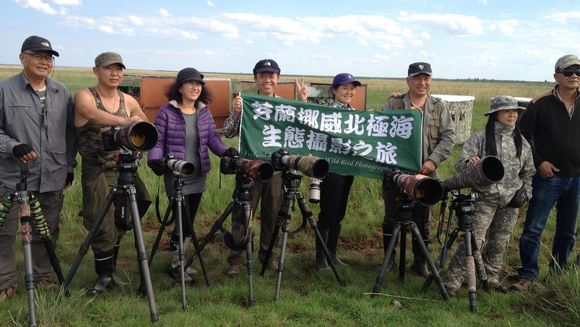 Finnish eco-tourism operators are now aiming at the Chinese market. Many affluent Chinese are now eager to travel the world to visit unusual natural beauty spots.
This week a group of Chinese birdwatchers are near Oulu in northern Finland to observe a single species of sandpiper, known as the ruff. The tourists got up at 3 o'clock in the morning to catch a glimpse of the mating displays of this showy wading bird in the Liminka Bay nature preserve.
Xie Jian Guo, a nature photographer who has been to the Antarctic to film penguins, says he will recommend Liminka to some of China's tens of thousands of bird photography buffs.
"We're taking photos of the ruff, which is a very nice bird, very beautiful. We have about 70,000 people [in China] who take photos of ruffs. I'll show them the birds and I think more and more people will come here," he says.
Tour operators aim for small groups
Jari Peltomäki, who runs the local firm Finnature, says that Finnish ecotourism operators are making specifically targeted marketing efforts in China.
"We only need to have a small fraction of those tens of thousands of people who are interested; that's enough work for us," he says. "This kind of nature tourism is very international. These ecotourists and nature photographers travel all over the world, and Finland and Liminka Bay are among the hotspots for them."
Last year some 50,000 birdwatchers visited Liminka. Around half of that number have visited so far this spring, including groups from the UK, US, Japan and Israel.
Peltomäki says local firms are aiming for moderate growth in the Chinese tourist trade.
"Bird photography safaris and nature travel can never be mass tourism. So we'd rather work with small groups. We can have many of them coming in one after another and let them photograph different things at different times."
Xie Jian Guo says the visit to Liminka was impressive for several reasons: "first the birds, the second is Jari and the friendly people."