Due date approaches for agreement on Alaska LNG project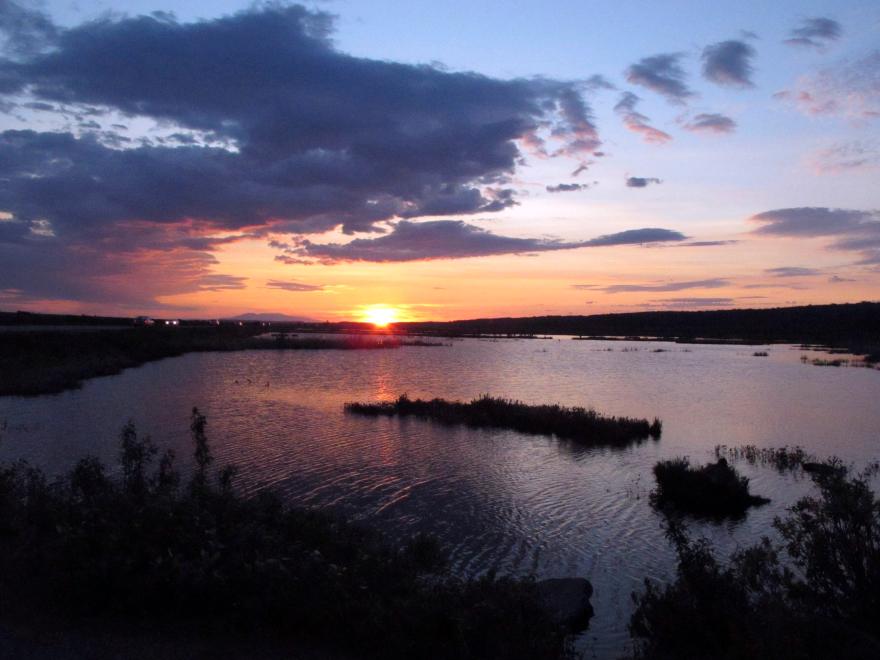 The clock is ticking for Alaska's major oil companies and a Canadian pipeline builder who committed to produce an agreement to spend hundreds of millions of dollars for a summer of field work to advance a blockbuster project to ship natural gas from the North Slope to hungry world markets.
At least, that's how things are supposed to work under the benchmarks laid out by Gov. Sean Parnell in January. The schedule gave BP, ExxonMobil, ConocoPhillips, and TransCanada until "late spring" to finalize an agreement before moving into the pre-FEED stage of a project to export liquefied natural gas.
The pre-FEED stage has nothing to do with standing in line at a bounteous chow line on the North Slope oil patch. Instead, it refers to the "front-end engineering design" stage of a gas project, when partners are supposed to collect preliminary information along the pipeline route, such as, in this case, conducting stream surveys and identifying subsistence fishing sites.
As every Alaskan should know, astronomical spring ends next Thursday, just before the longest day of the year, and summer officially begins on June 21.
Whether there's an agreement by then or not, Alaska should expect a big announcement and more promises-on-paper from the companies talking about a project they've considered for decades, one that has always died in part because markets are ever-shifting and feasibility studies can drag on for years. Exxon has already said it will take another three to four years to decide if the project can be built, even as similar projects come online around the world.
Alaska's LNG attempt
The latest proposal — estimated to cost at least $45 billion and maybe more than $65 billion — calls for tapping into the 35 trillion cubic feet of proven natural gas reserves on the North Slope, one of the biggest supplies on the continent.
The gas would flow down an 800-mile-long pipeline, get chilled into a liquid at a coastal plant somewhere in Southcentral Alaska, then be shipped across the ocean to buyers in places such as Japan, which is on the hunt for new gas supplies after its 2011 nuclear disaster.
The companies have dubbed their latest iteration the Alaska South Central LNG project, not to be confused with its peers of the past, such as the Alaska Pipeline Project, a previous effort involving just Exxon and TransCanada, or the Denali Project, a scrapped proposal involving Conoco and BP — not to mention all sorts of other attempts lying dead by the highway of dreams, leaving many Alaskans skeptical that leaseholders want to produce the gas.
The current LNG project is also not to be confused with the state's proposal for a smaller project involving an $8 billion in-state pipeline acting as a sort-of competitor to the private pipeline, suggesting that "If you don't do this, Alaska will!" That's called the Alaska Standalone Gas Pipeline Project, or ASAP.
The head of that effort, Dan Fauske, said the state is planning on a critical "open season," meaning a search for buyers, late next year or early 2015.
Late next year — October 2014 to be exact — is the deadline for the oil companies and TransCanada, the chosen licensee under the Alaska Gasline Inducement Act, to submit their application for permitting to the Federal Energy Regulatory Commission, though the state has the option of again extending that deadline.
As for the benchmarks laid out by the governor — a former lobbyist for Conoco — the oil companies and TransCanada have so far have met those going back to the first one more than a year ago. As requested, the partners in mid-February provided key project details, such as pipeline size (42 inches wide), gas treatment plant location (North Slope) and the plant's capacity (3-3.5 billion cubic feet per day).
Summer of field work?
Exxon is the lead company for the upcoming summer of field work. Exxon spokesman David Eglinton said Friday morning that the Houston, Tex.-based firm is working toward the next "decision point" and preparing for that work.
BP "will make every effort to make the next project milestone. Since the joint work began in March 2012, the companies have committed more than 200 people to the project," said spokeswoman Dawn Patience.
ConocoPhillips spokeswoman Natalie Lowman said she had nothing new to share beyond what had already been provided to the governor in February. TransCanada didn't reply to an email seeking comment.
Plans this summer call for a 150-person workforce — on top of the 300 already involved, according to an article by the federal pipeline coordinator's office. The workers and contractors will survey ground conditions and historical and cultural resources along the northern half of the proposed 800-mile pipeline route. They'll also analyze 37 streams, 20 fishery sites and 17 lakes, Exxon official Steve Butt told lawmakers in May.
Such studies will help inform the 13 resource reports that support an environmental impact statement, all part of receiving approval for the project from FERC.
Joe Balash, deputy commissioner of the state Department of Natural Resources, said he hopes the partners are on track to meet their solstice deadline: "It would be good to enjoy the summer a little."
The state is doing its part to move things ahead, but it's not easy getting rival oil giants to work on what could be one of the largest projects ever built in North America. "We continue to encourage them," Balash said. "If someone looks like they'll duck out of the ring, we'll throw them back in, figuratively speaking."
The companies suffer no penalties if the deadline is missed, other than public shame. Alaskans are watching, Balash said. "It's all part of demonstrating not only for us, but the Alaska public, that they are serious about moving forward with a project," he said.
Tapping on the brakes now wouldn't look good, and it may not be in the oil companies' financial interest. They just won a giant tax break worth hundreds of millions of dollars a year, maybe even billions. Many Alaskans are working to repeal that tax break, and any foot-dragging by industry could aid signature-gatherers.
AGIA still needs a massage
Though they've met their benchmarks, the LNG partners have yet to take another key step: Properly altering the terms of the Alaska Gasline Inducement Act that gave TransCanada an exclusive license to pursue the project and provides up to $500 million in state assistance.
About half of that money has been paid out. Some of it went for work done on one of those previous plans — the Alaska Pipeline Project — that would have shipped North Slope gas through a pipeline into Canada for use in the Lower 48.
An amendment to AGIA last year allowed the companies to explore an LNG project, Balash said. But to continue moving ahead, and officially ditch the pipeline route through Canada, they'll need another amendment.
"At this point, the question is, 'OK when, for the purposes of the (AGIA) license, is the project going to switch?'" Balash said. "When are they going to provide specifics that would allow us to switch the designation of the project itself?"
They're not behind schedule on that switch, however, he said.
"I wouldn't characterize it that way, but I think Alaskans are probably of the view that they're about 20 years behind," he said.
Contact Alex DeMarban at alex(at)alaskadispatch.com