Conditional OK for Yellowknife mine cleanup in Canada's Northwest Territories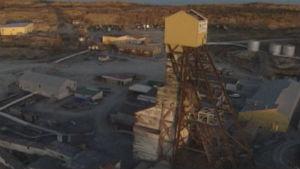 A northern review board has given its conditional stamp of approval to a federal cleanup plan for an abandoned gold mine near Yellowknife, the capital city of Canada's Northwest Territories.
The main environmental hazard at Giant Mine is the 237,000 tonnes of highly toxic arsenic trioxide dust stored underground. The mine is close to the shores of pristine Great Slave Lake. Environmentalists and Yellowknife residents alike are worried the dust could leach into the lake.
In a 233-page report released today, the Mackenzie Valley Environmental Impact Review Board says it will recommend the plan be approved as long as 27 conditions are met, including:
shortening the timeframe for dealing with the underground arsenic from perpetuity to 100 years
facilitating ongoing research in emerging technologies for a a permanent solution
requiring independent reviews of the Project every 20 years to evaluate its effectiveness and decide if a better approach can be identified.
The board says the measures are required to address the significant adverse environmental impacts and public concern associated with the cleanup.
It will fall to the federal government to implement most of the measures. It took over responsibility for the cleanup in 1999, when the last owner of the mine went bankrupt.
The board's report now goes to the Aboriginal Affairs and Northern Development Minister Bernard Valcourt, who has the final word on the review.
Related Link:
MVEIRB Report of Environmental Assessment for Giant Mine Project