Search resumes on Alaska glacier for remains of 1952 plane crash victims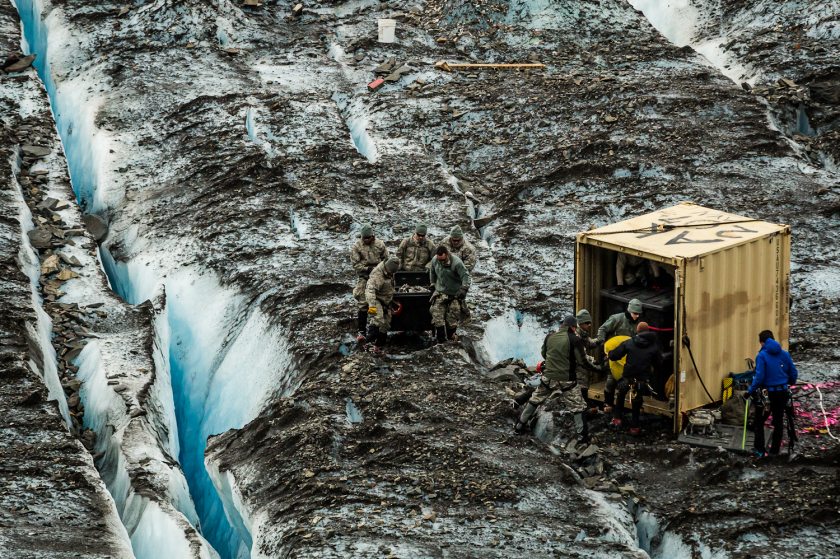 The hot weather in Alaska that has driven folks to lakes and ice cream stands has had an altogether different effect on Colony Glacier, about 50 miles east of Anchorage. There, the heat has melted the top layer of the glacier rapidly, exposing more debris from a 1952 C-124 Globemaster crash that killed 52 members of the military.
Now, after a recovery effort last year, a team from the Joint MIA/POW Accounting Command (JPAC), based in Hawaii, has returned to Alaska to examine the debris field again, which is reportedly larger than ever before and may hold new clues and remains of the 52 people who perished when the plane collided with Mount Gannett in the middle of the 20th century.
Meanwhile, family members who have waited for more than half a century to hear if their loved ones' remains would ever be recovered are still waiting, hoping that this new recovery effort won't reset the clock on DNA testing that has been conducted, and will possibly lead to the return of remains discovered by the team last year.
According to JPAC spokesman Lee Tucker, some team members have already arrived in the Last Frontier to begin conducting training for glacial maneuvers. Working on glaciers can be tricky, especially in the hot weather that has pervaded Alaska since the end of May. The nice weather could make the next recovery operation more difficult than last year's, which happened during one of the coolest summers on record. Even in those conditions, the debris was moving at a rate of about 3 feet every day.
Tucker said that although the warm weather had exposed more debris, the methods of recovery would be the same methodical ones used in 2012.
"I don't know that there's necessarily more urgency" with the warm weather, Tucker said, "but we want to make sure that we can do everything in our power to identify the individuals that were lost."
To that end, JPAC team members have been working with an elite group of parajumpers from Joint Base Elmendorf-Richardson — some of whom, as part of a high-altitude glacier training exercise, became the first people to summit Mount McKinley this season.
According to Capt. Tania Bryan, spokeswoman for JBER, the parajumpers will accompany the JPAC team to Colony Glacier to assist in the recovery efforts. They were also part of the first group to return to the glacier to re-evaluate the debris field and determine if JPAC might need to return. Now, things are moving along.
"When they first went out and made the first overflight this year, the PJs that were on the reconnoissance flight reported (the glacier) was a pretty stable surface," Bryan said. "But a lot has changed. We've had some warm weather."
Bryan wasn't sure how long the team would be out on the glacier, though a note sent by Allen Cronin, with the Air Force's Mortuary Services, to family members awaiting closure estimated it could be as long as four weeks. Bryan estimated it wouldn't be that long.
Tucker said that the team would have to make that determination when it gets out onto the ice — hopefully sometime next week.
"It's really going to depend on what we find those first few days on the ice," he said. "There are so many factors involved — what we find, what the site looks like — it's really going to depend what we find early on."
Meanwhile, those loved ones — who are still waiting to discover if the DNA samples they submitted in the past year could be tied to recovered remains — will have to keep waiting, at least a little while longer. Tonja Anderson, whose grandfather Isaac Anderson died in the crash, and who has coordinated with others whose relatives were aboard the plane, said that people are getting frustrated with how much time the process is taking.
"They still haven't even provided the families with the personal stuff (found at the site)," Anderson said. "Wallets, pictures, social security cards, that they know belong to specific people."
She added that she knows of at least three family members who have passed away in the interim between the discovery of the wreckage and the final notification.
Kevin Caid, whose uncle Robert Van Fossen died in the crash, previously told Alaska Dispatch that his mother — Van Fossen's sister — passed away last September. She'd learned of the discovery, but never found out if her brother was among the remains found on the glacier. Meanwhile, on a Facebook page dedicated to the C-124 crash, another family member lamented the length of time that the process was taking.
"Our Uncle, Col Eugene Smith was on board," wrote Brian Gorman. "His youngest brother, Mike, submitted DNA in hopes of Identifying any remains that were found. On Mike's 90 birthday in February he received pieces of the plane. On June 2nd Mike went to join his brother Gene and the rest of his family. It is sad we did not get any final results before he passed."
Such passings were what prompted the note from Cronin, to whom Anderson said she had spoken numerous times over the year since the wreckage was recovered. He said in the note that he would attempt to streamline the process for the surviving family members.
"I know we have lost a couple family members in the past year and it worries me that if we are to wait until the site is considered closed to make any type of ID, we are going to lose more family members," he wrote. "I plan on going back to JPAC and asking the Scientific Director how we can move forward to help those families and possible provide some closure sooner rather than later."
Tucker, however, indicated that if the new debris turned up new remains or personal effects, those wouldn't restart the waiting game for those seeking answers to what happened to their relatives.
"It's not going to reset the process," Tucker said. "The remains that have been collected are still undergoing analysis and there's a process that we go through once we make the id from our end, we notify the service casualty office, then notify the family members … it's not going to reset the process on any of the remains that we've collected (already)."
So while there's movement of a sort, out there on a craggy glacier in Southcentral Alaska, there are still many who are waiting for a different kind of effort — one that will finally bring their long-lost family members home. Whether or not that day will come soon remains to be seen.
Contact Ben Anderson at ben@alaskadispatch.com