Nunavut, Canada workers earn less than people in other territories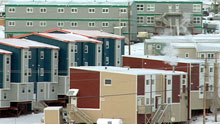 Workers in Canada's eastern Arctic territory of  Nunavut are earning a bit less than their counterparts in the other two territories.
Statistics Canada released numbers last week on employment, earnings and hours. The figures show that the average weekly earnings for employees in Nunavut in April 2013 were $951.62, which is three per cent less than in April 2012.
At the same time, the average weekly earnings in the Northwest Territories (N.W.T.)  remained about the same over the same period.
In Canada's northwestern Yukon territory, wages went up by three per cent.
In April 2013, workers in the N.W.T. earned an average of $1,316. In Yukon, the average was $1,005.