Sibling adventurers set out on 1,000km Arctic expedition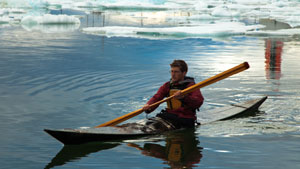 Iqaluit, Nunavut's Eric and Sarah McNair-Landry are setting off on their latest expedition — a 1,000-kilometre journey by traditional Inuit kayak and kite skis across Baffin Island.
The siblings are no strangers to arduous journeys in the Arctic. In 2011, they broke records as the first people to kite-ski across the Northwest Passage.
This year, their partners Erik Boomer and Katherine Breen are part of the latest adventure.
They've been planning this trip for the last 2 years.
"I came up with this idea for the expedition on the first time I went to Greenland, which I was quite young. I was really surprised, especially Sisimiut [in Greenland] – there was just a huge kayaking culture there," said Eric McNair-Landry.
They will use traditional Baffin-style kayaks they built themselves for part of the trip.
"Knowing that people have been doing this kind of a trip or at least portions of this trip along these traditional routes for centuries is pretty cool to be a part of," said Breen.
The expedition starts in Qikiqtarjuaq, Nunavut. Then they plan to ski and kite ski over the Penny Icecap, going through Auyuittuq National Park, and then down the river using modern kayaks.
"In Pangnirtung we're going to switch off to these traditional sea kayaks that we built and we're going to go from Pang to Cape Dorset," said Sarah McNair-Landry.
The team plans to arrive in the Nunavut community of Cape Dorset in mid-September, after having travelled through wind, rain, shine and even snow.
"I couldn't think of an adventure I'd rather go on that combines culture, history, craftsmanship and adventure all in one two-month-long trip," said Boomer, who is also on the team.
The team wrapped up their packing Tuesday. They're now putting the finishing touches on their traditional kayaks before beginning their adventure.