Fermented 'stink whale' lands in Barrow, Alaska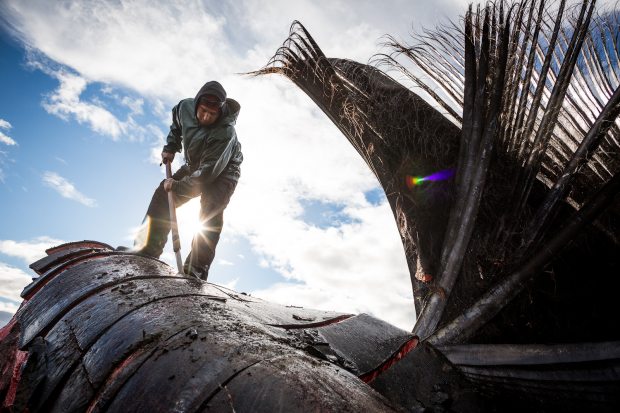 The nation's northernmost city got a burst of good news Tuesday during a slow season of spring whaling, when a 44-foot bowhead that had been struck and lost floated to the surface to be rediscovered after six days.
The smelly creature was just the second whale landed in Barrow this spring, an Iñupiaq community of 5,200 where subsistence hunting helps supplement store-bought food, like milk that sells for $9.99 a gallon.
On Tuesday, the animal's sprawling stench wafted from the whaling captain's yard where it is being butchered. Still, locals are ready to chow down on the outer layer of blubber and skin that stayed fresh in the Arctic Ocean.
"It smells like — oh my gosh — like really fermented stink whale, like when your food spoils and you don't want to be around it," said Dora Diaz, laughing. "When I was driving, it went through my windows even when it was closed."
The smell was so bad that a neighbor phoned up Diaz where she works at the Alaska Eskimo Whaling Commission to suggest that the quartering take place away from town.
"We were expecting more calls," said Diaz.
But the organization that manages Alaska bowhead hunts didn't hear from anyone else, she said. That's because people are just grateful for the chance to eat the traditional food they crave, even if the inside meat is rotten.
"They boiled some, and they already tasted it," she said of the muktuk. "It's soft, so that's good."
Such lucky finds happen occasionally across the North Slope's whaling villages. But it's especially important to Barrow this spring, an unusual season marked by little open water as wind-driven sea ice hugged the shore, keeping crews from hunting. The poor conditions led to community prayers alongside the beach that drew large crowds, with captains pleading for a break in the ice, said Diaz.
Spring hunting typically brings several whales. Last year, for example, the whaling season was done before the start of June, after Barrow captains had landed 14.
But this year, the whaling has extended past mid-July, a record late season according to some captains. But whalers were land-locked again on Wednesday: The shore-side sea ice is gone, but heavy fog had settled in.
The whaling has been slow across other areas of the North Slope as well. The villages of Wainwright and Point Lay landed no bowheads. Point Hope landed five, Gambell two and Savoonga four.
A crew belonging to Jacob Adams, former head of Alaska Native corporation ASRC, brought in Barrow's first whale in late June. It was a massive 55-footer, a big one for a species that tops out at 60 feet.
The meat was tough, a common problem for big whales. Bowhead aficionados prefer rounder "butterball" bowheads about 30 feet long. But again, no one was complaining.
"Even just that one whale made us so happy," Diaz said. "Everyone was so excited because at least we got uunaalik," she said, referring to boiled muktuk and skin.
Shares from the big bowhead went to dozens of whaling crews. More portions were distributed recently at Nalukataq, the spring blanket-toss festival. And still more meat has been set aside for Barrow's Thanksgiving and Christmas feast.
"We were just thankful for what we got," said whaling captain Herman Ahsoak, who ended up with five gallons of mikigaq (micky-auk), a fermented stew of meat, tongue and muktuk.
His Quvan Crew killed Barrow's second whale, a male, on July 10. Ideally, just one bomb is needed before a whale dies. But this one was fast and put up a good fight. Killing it from a moving boat wasn't easy.
The crew struck it with six bombs to bring it under control, four of which had exploded. But it was still alive, so the crew struck it with a fifth exploding bomb. That caused the bowhead to sink and disappear.
"The person holding the float couldn't hold on any longer," Ahsoak said. "The lungs might have filled with water."
Ahsoak spent days looking for the whale, but it wasn't until early Tuesday morning — which happened to be his 20th wedding anniversary — that seal hunters called over the short-wave radio to say they'd found it.
On Tuesday, Ahsoak was busy salvaging what he could. The still-fresh muktuk would probably fill more than 40 boxes, he said. He's planning to host the community's second blanket-toss festival later this month to distribute much of that muktuk to residents.
"It's one way to give glory to God, and to say thank you and feed the people," he said.
Contact Alex DeMarban at alex(at)alaskadispatch.com