Deninu K'ue chief questions timing of Avalon mine announcement in Canada's N.W.T.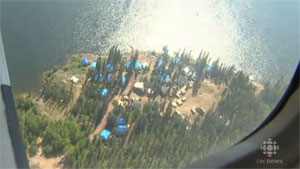 The chief of the Deninu K'ue First Nation in Fort Resolution, Northwest Territories is questioning Avalon Rare Metals' plans to look at processing its ore outside the territory.
Last week, Avalon announced it's considering building a processing plant outside the territory for the raw materials extracted from its proposed Nechalacho mine in the N.W.T.
In a written letter, Chief Louis Balsillie said the news didn't come as a surprise, but the timing raises some questions.
Balsillie says Avalon waited until it received approval from regulatory boards before making the news public. Balsillie wonders why the company didn't include their plans in talks with the band and the territorial government before those approvals were granted.
Balsillie says the company misled the band into thinking there would be as many as 300 jobs at a proposed Pine Point, N.W.T. processing plant.
Rare earth metals are a collection of 17 elements that are used in high-tech devices like batteries, magnets, wind turbines, cellphones, electric cars, flatscreen televisions and missile guidance systems.
There's a global rush to discover and process new rare earth mining facilities. The vast majority of the world's supply comes from China, where there are now signs of wanting to limit exports of the rare earth metals.
Avalon hopes the Nechalocho mine will be operational by 2016.