Military's Arctic training facility opens in Resolute,Nunavut
The year-round facility will be used as a base for cold weather survival training and other Arctic operations.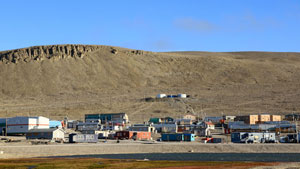 The military says it could also serve as a command post for emergency operations and disaster response.
The facility can accommodate up to 140 military personnel. There will also be storage space for military equipment and vehicles.
The government says it's meant to enhance Canada's military presence in the Arctic.
The training facility is housed within the expanded facilities of the Polar Continental Shelf Program. That program co-ordinates field logistics for research projects.
Prime Minister Stephen Harper first announced the army facility in August 2007. A navy facility at the old Nansivik mine site near Arctic Bay, Nunavut, which was announced at the same time, has just begun the tendering process.