Pot raids in Canada's Arctic and Montreal net 1,000 plants, 22 kgs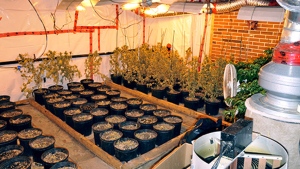 Police in Quebec and Canada's eastern Arctic territory of Nunavut say they've busted up a major pot-smuggling operation.
More than 1,000 cannabis plants have been seized along with 22 kilograms (50 pounds) of marijuana from a Montreal grow-op and several people have been arrested in Nunavut, Montreal and in the Inuit self-governing region of Nunavik in Northern Quebec.
The bust was a co-operative investigation by the Royal Canadian Mounted Police (RCMP) and Nunavik's Kativik Regional Police, with help from Canada Post inspectors.
Police say the pot was grown in Montreal, and mailed to Nunavut and Nunavik. Local dealers would then sell the drugs in Northern communities, at high prices.
Raids were conducted yesterday in some northern communities, as well as Montreal.
RCMP say the trafficking ring has been operating for several years. And one of the people arrested in Montreal is believed to be the kingpin of the operation. Police say the investigation is ongoing, and there could be more arrests.