Inuk artist's design appears on new Canadian quarter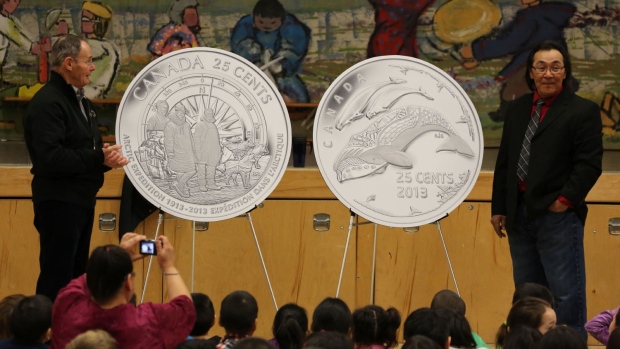 The Royal Canadian Mint started circulating 25 million quarters this week with images of the Arctic.
Half of the coins feature a design by Tim Pitsiulak of Cape Dorset, showing a bowhead whale and two belugas.
The other 12.5 million quarters commemorate the 100th anniversary of the 1913 First Canadian Arctic Expedition led by Vilhjalmur Stefansson and Rudolph Anderson​. It shows three explorers with a fully-packed dog sled.
"Canadians have to understand all the stories behind their countries, what makes up our Canadian identity, and for the Royal Canadian Mint we have a unique opportunity to reach million of Canadians at a time," said Alex Reeves, senior manager of communications for the mint.
Pitsiulak's design is also on a limited edition silver coin.