Weather deals double blow to Sweden's timber industry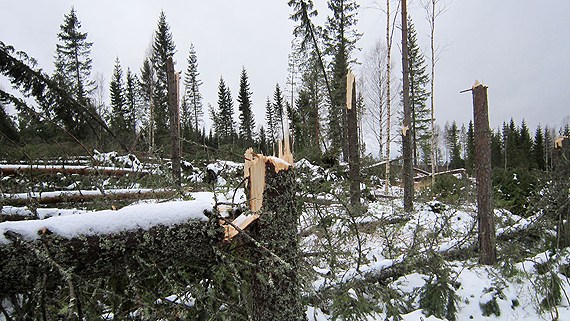 The weather has dealt Sweden's timber industry a double blow this year and now loggers are looking at lower profits and more headaches as they try to salvage what's left of their trees.
In December, Storm Sven barreled down on Sweden with strong gusts and heavy snows and was quickly followed by Storm Ivar, whose fierce winds fell between 4.5 and 6.5 million cubic meters of forest. In total, an estimated 12 million cubic meters of timber were damaged by bad weather with forests in north hit the hardest.
Kurt Johansson owns a forest in southern Sweden. Storm Sven took 400 cubic meters from his land, most of which were young trees, not ready for harvest.
Johansson says thanks to the storm it took 3 or 4 days to remove the downed trees with chainsaws. If they had been standing, the job would have taken a day and a half with help from tree harvester. Exactly how much the loss will cost him is unclear but the damage down will certainly shrink his earnings.
"It will be pulpwood," he says, a type of lumber that used to make paper and usually fetches half the price timber gets on the market. Johansson adds if the trees are heavily split, the timber can only be used for firewood, which has an even lower price tag.
The timber industry is also racing against the clock, trying to get their logs to lumber mills before the spring. The springtime rains and warmer weather could make downed trees a perfect breeding ground for insects.
"We want to save as much lumber as possible," says Björn Lyngfelt, who works for forest products company SCA.
But even Mother Nature is making that task difficult. Loggers are having trouble reaching their forests thanks to the winter's warm weather. With higher temperatures, the ground hasn't frozen and dirt roads leading into the woods have become muddy messes that can easily bog down trucks.
Related Links:
Canada: Concerns about Canada's boreal forest, The Canadian Press
Finland: Rovaniemi, Finland hosts forestry conference, Yle News
Sweden: Tree clearance halted in Sweden's Ojnare forest, Radio Sweden
United States: White spruce may thrive as temperatures warm across subarctic Alaska, Alaska Dispatch