Massive windstorm lashes Iqaluit, Nunavut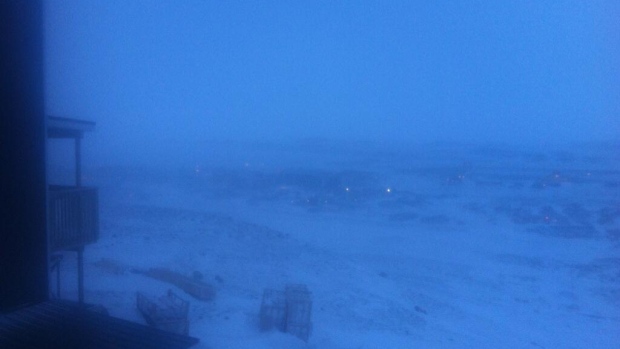 Parts of Iqaluit, the capital city of Canada's eastern Arctic territory of Nunavut, were still without power this morning, schools are closed and city vehicles are off the roads as the tail end of a powerful windstorm blows over the community.
Some people went up to 17 hours without power in Iqaluit overnight as winds gusted to up to 141 km/h.
"I'm coming up on 39 years in Iqaluit," said mayor John Graham this morning, "and I've never seen winds like that ever."
"I thought the windows and patio doors were going to cave in," says the CBC's Patricia Bell, who felt her way from her car to her front door with a baby in tow. It was the first time in her 14-year career that the CBC station in Iqaluit closed due to weather.
Staff is back in the station this morning, but are broadcasting on 1230 AM only; the FM station has been knocked out.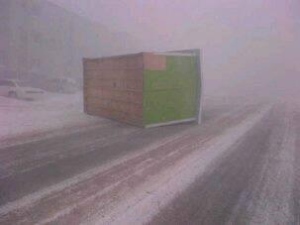 Flying garbage bins, sheds, roofing and construction materials were also flying around the town. Some debris smashed the back window of a parked CBC truck.
Several people trying to get home yesterday found they were standing still, or being blown in the wrong direction by the wind. Good samaritans offered rides, but several vehicles also wound up in the ditch.
Many homes and apartment buildings in the city are built on stilts — long metal pilings drilled deep into the permafrost. People in those homes felt shaking throughout the night, with one resident, whose home overlooks Frobisher Bay, describing the experience of his living room sofa turning into an amusement park ride.
"Sitting on my couch right On Twitter, another Iqaluit resident reported that his brother's living room window shattered. Fortunately, nobody was near it at the time.
"Truck's covered in snow, garage is almost covered to the top! Thought the roofing and siding was going to blow away!" wrote Johnny Issaluk on Facebook.
Some tweeting died down during the night as cellphone service was temporarily lost.
Storm still blowing
Wednesday morning, Environment Canada is calling for blowing snow with near zero visibility and winds gusting to 90 km/h. The winds should die down around noon, but the temperature will fall to –17 C, feeling more like –27 with the wind chill.
The violence of the storm took even veteran weather watchers aback.
Sustained winds of 111 km/h were approaching category 1 hurricane strength, said CBC North meteorologist Christy Climenhaga. A category one hurricane requires sustained winds of 120 km/h.
Bell's house was without power from 7 p.m. to about 5 a.m. this morning, and she was not alone. Some people went without power for 17 hours, using candles, Coleman stoves and blankets to keep warm.
Qulliq Energy Corporation managed to restore power to most of the community around 5 a.m., and several hours later in Apex.
There, power went out around 3 p.m. yesterday. Community members opened the local school as an emergency warming centre, offering rides to people in need.
After closing up the school this morning once power was restored, school principal Mat Knickelbein made a list of people to check on during the day, inviting others online to call and add names.
Schools in Iqaluit, Clyde River, Rankin Inlet, Igloolik and Cape Dorset are all closed Wednesday morning as the winds continue to blow.