Standoff in Barrow, Alaska concludes quietly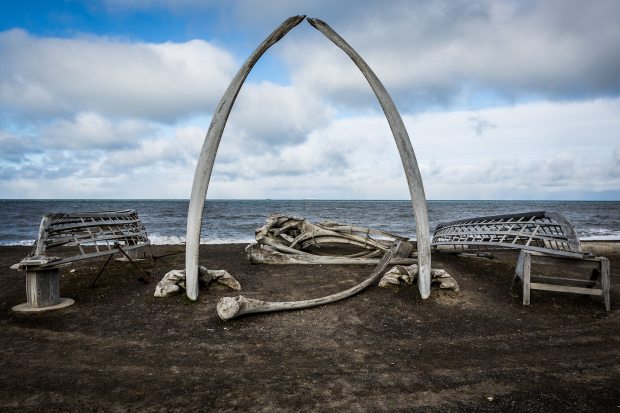 On Tuesday night, police in Barrow were engaged in an hours-long standoff with a man in the community, the farthest north in the U.S., which ended peacefully shortly after 9 p.m.
Few details were immediately available, but the incident had sent schools in the community into lockdown, and was still playing out hours later.
Peggy Cowan, superintendent of the North Slope Borough School District, said she received a call around 4 p.m. notifying her of police activity in the area of the Kiita Learning Community, an alternative school located near the intersection of Karluk Street and C Avenue in Barrow.
The school went into lockdown, without confirmation of what exactly police were responding to.
"Rumors were flying," Cowan said, and police were unable to immediately confirm the nature of the situation for her. On Twitter, students posted about being in lockdown.
Other schools were also locked down, though the time of day meant that most students had gone home by that point. The Kiita school, she said, was the only one which hadn't had buses take the students home yet.
It wasn't until nearly two hours after the initial call, at 5:55 p.m., that students would be permitted to leave the Kiita school, and were instructed to walk in the opposite direction of nearby police activity.
That was reportedly where the standoff was taking place, though no details were available Tuesday night about what had led to the situation, or who the man involved in the incident was.
"Nothing happened at the school, and the school didn't see anything besides police sirens and police vehicles," Cowan said. "Nobody saw anything except police cars coming by, and police in the neighborhood."
At about 6 p.m., Pastor Duke Morrow of the Utqiagvik Presbyterian Church said on the church's Facebook page that a standoff was ongoing, and later invited people to the church to pray and asked others who couldn't come to send their prayers.
Reached by phone, Morrow said the standoff had ended peacefully at about 9:15 p.m., and that many people had turned up at the church to offer their prayer and support each other. Morrow said he had gone down to the scene of the standoff to see if he could help convince the man inside to come out.
"I was at the scene and offering my own services, and they said it was pretty well resolved and he came out a few minutes later," Morrow said.
Barrow police confirmed that the standoff had ended Tuesday night.
Despite the peaceful end, it was still a tough day for many in Barrow. Earlier in the day, Morrow said, a young boy had died. And Morrow had held funeral services hours before the standoff began for a young man who had committed suicide.
Contact Ben Anderson at ben(at)alaskadispatch.com
Related Links:
Canada: Crime rates slightly up in Canada's North, CBC News
Iceland:  Iceland has first fatal police shooting, The Associated Press
Sweden:  Reports of violent crime increasing in Sweden's North, Radio Sweden
United States:  Panel blasts 'colonial model' of justice in rural Alaska, Alaska Dispatch