Alaska: Steps outlined to prevent search-and-rescue tragedy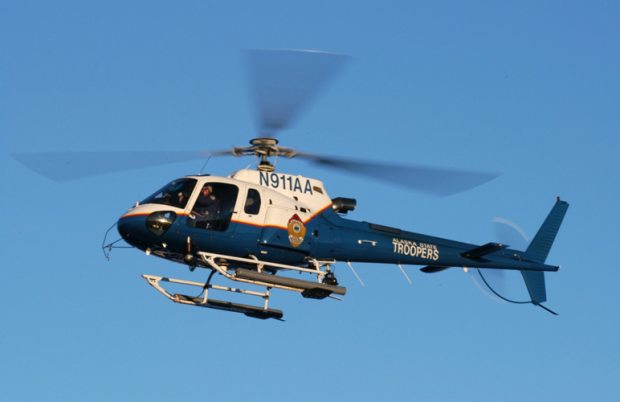 Nearly a year after the prime search-and-rescue helicopter of Alaska State Troopers crashed near Talkeetna, leaving storied pilot Mel Nading and two others dead, the state agency says it is working on a "risk assessment matrix" to help determine when it is safe to fly rescue missions and looking to hire a safety officer to work in its aircraft section.
In response to a long list of questions from Alaska Dispatch, the agency said it has not changed flight protocols since the crash, but it "has changed some weather guidelines for helicopter flights including night operations and weather minimums. Each Department of Public Safety (DPS) pilot has their own individualized minimums based upon their experience and flight time. Pilots are required to adhere to their minimums at all times."
Who ultimately decides whether it is safe to fly, however, at this moment remains the same.
"The pilot has the right to refuse based upon the pilot's risk assessment of the mission and other factors. The DPS aircraft section is in the process of developing a formalized risk assessment matrix that will require pilots to assess the many factors that need to be considered in a safe flight," troopers reported.
Once that risk matrix is complete, the agency says, "a pilot will need to go through (it) prior to each mission. When certain criteria on this checklist are met, outside approval must be sought. Some of the supervisors are pilots, some are not, but all make life or death decisions every day. When risks meet a certain threshold, a pilot supervisor must be consulted to give permission for the flight."
The National Park Service, which does its own helicopter rescues on Mount McKinley during the annual May-July climbing season for North America's tallest peak, has a risk matrix and requires the approval of three people, including the pilot, before a flight can launch. Nationally, experts in the business of search and rescue — SAR as it is commonly called — agree it is dangerous to allow pilots alone to make go/no-go decisions on rescue flights because of a certain natural willingness to take risks to try to save lives.
Until his death, Nading was the one making go/no-go decisions for his flights with the troopers, and documents among approximately 100 investigative reports released by the National Transportation Safety Board last week paint a portrait of a pilot willing to push the limits to rescue those in danger.
A risky profession
The troopers' aircraft section commander told NTSB investigators that "he recalled a discussion he had with the pilot (Nading) about the risks involved in some of the SAR missions the pilot conducted including flying in bad weather and at night, and he said that the pilot told him, 'I told
them when I took this job that I would do this, and that's what I am going to do.' The commander expressed the opinion that the pilot knew what the risks were and he felt a self-imposed obligation to to conduct SAR missions."
The report goes on to outline a daring 3 a.m. flight to rescue some Alaskans who had become trapped along a rising river where they'd landed their Super Cub airplanes on gravel bars. Troopers asked the Alaska Air National Guard's 210th Rescue Squadron, one of the best SAR operations in the world, to assist on that mission, but 210th pilots turned their Pave Hawk helicopter back when they hit weather they considered too dangerous for flight.
Nading, according to the report, "stayed up all night and continued to check the weather until he saw a 'weather window on the radar' that he thought would allow him to reach the location." He eventually sneaked through and made the rescue. "The section commander," according to the NTSB report, "said that this mission demonstrated how 'motivated and driven' the pilot was to perform rescues."
On the night of his death, Nading was again flying into potentially dangerous weather at night. He was at the controls of a helicopter certified only for "visual flight" and using night-vision goggles, NVG as they are called, to see. The NTSB report raised questions about Nading's training and qualifications for NVG use.
"Review of the pilot's logbooks did not reveal any mention of NVG flight time, and the pilot did not indicate that he had any NVG experience on the resume he provided to DPS at the time he was hired," the report says. "The military records from the pilot's U.S. Army Rotary Wing Qualification Course do not list any NVG flight time. It is possible that the pilot received NVG training and flew with NVGs during the time he was assigned to an Army National Guard Aviation Unit."
But there is no doubt Nading had field experience in NVG flight, although the NTSB reports says "DPS did not maintain a record of the pilot's NVG flight time. Review of the individual helicopter log sheets for the six months before the accident indicated that the pilot flew 16.2, 13.2 and 2.2 hours using NVGs within the six months, 90 days, and 30 days before the accident."
As for his proficiency in NVG flight, the report says, "DPS did require that the pilot maintain a record showing that he met NVG operating experience required by FAR 61.57. This requirement was satisfied by the pilot completing a form titled 'State of Alaska Department of Public Safety NVG Operating Experience, FAR 61.57 (f) (1) (2), (g), 61.31 (k) on an AS350B3 (Astar).'"
The paperwork was in order, but the NTSB report raises questions about how thoroughly the state oversaw pilot proficiency. Nading crashed and significantly damaged a state helicopter when flying using NVG in swirling snow in 2006. The state Department of Public Safety investigated that crash, held Nading responsible, issued him a "Memorandum of Warning," and required a post-accident evaluation of his flight skills.
"On May 2, 2006," the NTSB report says, "the pilot successfully completed a DPS post-accident evaluation check flight in a Robinson R-44 (not an A-Star) … On the form used to document the check flight, the flight time was listed as 0.3 hours, and the remarks section of the form stated, 'although no blowing snow conditions were present, techniques used for blowing snow operations were discussed and evaluated." In response to Alaska Dispatch questions last week, troopers reported, "We have discontinued all NVG operations until further notice. We are reevaluating the NVG program and intend on revisiting these types of operations after we fully examine and update our current program. Any NVG program that we move forward will be in accordance with best industry standards."
The agency said it is also looking at whether its eight civilian pilots, most of whom fly fixed-wing aircraft, should be undergoing regular training.
"This is under development," the agency reported. "The DPS Aircraft Section is currently examining re-currency training standards. If standards are determined to not be sufficient, DPS will implement new standards that will apply to all DPS pilots."
A fatal flight's final seconds
The National Transportation Safety Board has yet to conclude what caused the state's five-passenger Eurocopter A-Star 350 B3 to crash in rain, sleet and snow just before midnight on March 30 near the Anchorage-Fairbanks electrical power intertie about 12 miles west of the community of Talkeetna, the jumping off point for climbers headed to climb nearby Mount McKinley.
But NTSB descriptions of the photos found in "Onboard Image Recorder 12," an in-cockpit camera, describe what one would see if a pilot became disoriented in blinding sleet and snow and was struggling to maintain level flight, according to pilots experienced with NVG flight.
Here is a section of that report:
• 23:18:50 Pilot's left hand is seen going to the left side of his helmet.
• 23:19:06 85 deg(ree) right roll, zero deg pitch, zero indicated airspeed, 500 FPM (feet per minute) up, 8 FLI (flight level indicator), 1790 altimeter
•23:19:20 60 right roll, 30 up pitch, 250 FPM down, zero indicated airspeed, 7 FLI, 1700 feet altimeter.
• 23:19:33 Zero deg pitch, 30 deg right roll, zero indicated airspeed, 1550 feet altimeter, 800 radio altimeter, 200 FLI.
• 23:19:35 85 degree right roll, zero indicated airspeed, 1500 feet altimeter, VVl (vertical velocity indicator) zero, 7.5 FLI.
• 23:19:43 Attitude gyro tumbled.
The helicopter crashed less than a second after the gyro tumbled. The in-cockpit camera stopped recording at 23:20:02. Experienced pilots say Nading, who reached for the left side of his helmet seven times during the helicopter's last five seconds of flight, may have been trying to adjust his night-vision goggles in an effort to gain better visibility.
The trooper helicopter was neither equipped nor certified for instrument flight. Nading was left to struggle to fly it visually based on what he could see through the greenish glow of NVG. This can be an extremely difficult task in bad weather, according to experienced aviators. A study guide for U.S. Army helicopter pilots, generally considered to be among the world's best at NVG flight, warns that low visibility and clouds can create false horizons, altered planes of reference, and height and depth perception illusions.
The study guides also warns pilots that "to avoid spatial disorientation, you should avoid bank angles in excess of 30 degrees." According to the NTSB log of the in-cockpit camera, Helo-1, as troopers commonly referred to the helicopter in question, banked to 30 degrees or more several times before the crash. In the NTSB chairman's report summarizing "the accident flight," the aircraft is described as flying about 200 feet above the ground at a speed of about 15 mph only seconds before the crash.
"The helicopter then entered a climbing left turn which continued through 360 degrees," the report says. "This was followed by a series of erratic turns, climbs and descents."
A need for NVG
Troopers have in the past said that being able to launch NVG flights is vital to their mission. In asking the Alaska Legislature for a second, $3 million A-Star to add to the trooper fleet in fiscal year 2013, the Department of Public Safety specifically cited the need to fly NVG.
"A common question is, 'Can't you charter?'" the budget request says. "Public safety operations are dramatically different from standard air charter duties. There are also significant limitations to a civilian pilot's ability to fly with Night Vision Goggles (NVGs) and to operate in a tactical environment as required with deployment of SERT personnel. This is often further exacerbated by a civilian pilot's lack of training and experience in flying rescue missions. With the downturn of the economy, the number of air transport vendors have decreased and the availability of those vendors to provide services to the Department become increasingly difficult. A pilot that flies an emergency mission for the Department at night will not be available to the vendor for their use the following day causing disruption and loss of income to those vendors."
The NSTB report on the crash of Helo-1 also raised questions about how troopers deal with the flight hours of their pilots and about the safety attitudes of the state agency. Some state policies have been changed since the crash, according to the trooper responses to Alaska Dispatch questions.
Pilot "duty days are (now) structured to allow for mandated rest time," troopers report. "Civilian DPS pilots are no longer on standby on their regular days off." The NTSB report indicated Nading was essentially on standby 24/7 when in the state, and that he considered being able to fly overtime as something vital to maintaining a decent income.
An overtime incentive
The 55-year-old Nading was a civilian employee of DPS with an hourly wage set to pay him $66,280 per year, but he annually earned more than $100,000. The difference was made up in overtime. His pay in 2012 totaled $105,750, according to the NTSB report, $66,820 of which came in regular pay and $38,885 in premium pay. Troopers have blamed Nading for trying to stack up overtime, but the NTSB report says the pay system put him under substantial pressure to fly overtime in order to support his family.
The NTSB report notes Trooper Major Steve Bear at one point suggested putting Nading on salary, saying "'maybe we need to save (the pilot) from himself' and 'nobody should be taking that much standby.' He said that if a pilot were paid a salary rather than hourly pay, this might be beneficial because it would remove the incentive to work more hours in order to make more money."
Nothing changed after Bear's comments, however, and the pay schedule remains the same today.
"The pay structure depends on each position and what union they belong to," troopers reported in response to Alaska Dispatch questions. "It has not changed."
The state agency has moved to deal with other weaknesses in its SAR procedures as noted in the initial NSTB reports. The NTSB suggested pilots flying SAR missions should be accompanied by a trained observer in the cockpit. Troopers said they are now trying to gain access to a bigger pool of such observers.
On the night of the Talkeetna accident, Nading stopped outside of Sunshine, a tiny community along the George Parks Highway, to pick up Trooper Tage Toll to accompany him on the flight as an observer.
Toll, 40, died in the crash along with 56-year-old Carl Ober, a longtime Talkeetna resident. Ober called for a rescue after crashing his snowmobile. Significant questions have been raised about just how serious was his need for a rescue. He had been bruised by the snowmobile crash, but reported to troopers, according to the NTSB report, that his main concern was "hypothermia." The temperature at the time was hovering around the 32-degree mark.
Changes ahead
How exactly troopers determine whether a SAR mission should be launched remains unclear. An Alaska Dispatch question as to who is in charge drew this response:
"The safety officer will oversee the safety management system and general safety related daily DPS aviation operations statewide. This person works for the Aircraft Section Commander. The SAR incident commander can be any number of people that is in charge of incident, whether it's a trooper in the field or a volunteer for an organized SAR organization. We have different pilots that fly helicopters, including a few commissioned troopers who fall under their regular chain of command for either AST or AWT. SAR is not the only duty tasked to our helicopter pilots. Many of our helicopter pilots participate in wildlife and fisheries patrols statewide."
In most SAR organizations, the incident commander is the person responsible for deciding how a SAR mission is organized. The Park Service on McKinley generally considers its helicopter a tool of last resort and will try to conduct ground rescues if at all possible. As troopers detailed in their response to another Alaska Disaptch question, there are options.
"Troopers conduct search and rescue activities with aircraft, watercraft and land vehicles," the organization reported. "If troopers can't respond by land, water or air, other options include contacting the 11th Air Force Rescue Coordination Center. The Army and Air National Guard and Coast Guard coordinate SAR operations in and off the coast of Alaska. The cooperative and joint efforts between the department, the state and federal partners, and SAR volunteer organizations, provides for the best possible use of the manpower, assets and equipment to locate and recover missing and injured individuals."
The North Slope Borough, which has its own helicopters, is also delegated to conduct Alaska SAR operations north of the Brooks Range. Trooper air operations generally focus in and around Anchorage and Fairbanks, where the agency stations the two A-Stars that it now owns. Neither the Anchorage nor Fairbanks police departments have aircraft. Aircraft operations are expensive, particularly those involving turbine helicopters like the A-Star.
The Dallas Police Department in 2011 sold its turbine helicopter, a Bell 407, citing the high costs.
"It makes budget sense to do it," City Manager Mary Suhm told the Dallas News. "It's like having two cars and a pickup. Everybody ought to have a pickup, but you can't have a pickup and use it three times a month. I can't afford that, and that's the way it is with the helicopter."
The newspaper reported that the Dallas helicopter "was flown about 600 hours a year during its first three years." NTSB records would indicate Alaska's Helo-1 was being flown somewhere between 150 and 200 hours a year for the past 12 years.
Read the full text of Alaska State Troopers' responses to Alaska Dispatch questions.
Contact Craig Medred at craig@alaskadispatch.com
Related Links:
Canada: New search and rescue data system to be used in Canada's eastern Arctic, CBC News
Norway: Norwegian plane wreckage removed from mountains in Arctic Sweden, Radio Sweden
Russia:  Russia opens first of ten new search and rescue centers in the Arctic, Blog by Mia Bennett
Sweden: Hikers rescued in North Sweden, Radio Sweden