Military exercises underway in Arctic Canada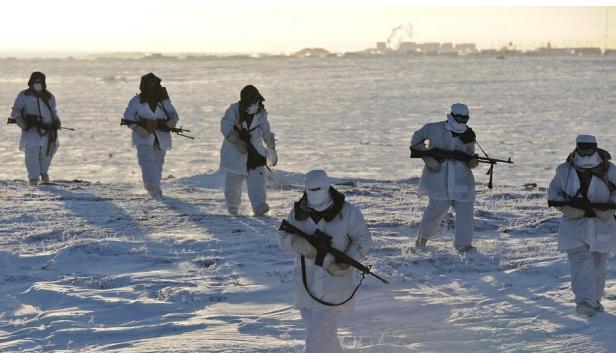 Hundreds of soldiers are learning cold-weather survival and warfare techniques with the help of Canadian Rangers in the Kivalliq and the Kitikmeot regions of Canada's eastern Arctic territory of Nunavut this month.
About 350 members of the 4th Canadian Division from Ontario are near the community of Rankin Inlet for Exercise Trillium Response. It started on Feb. 15 and continues until Feb. 25.
The soldiers are honing their skills in winter warfare, cold-weather survival and the use of Arctic equipment. One group travelled by snowmobile to Whale Cove as part of the exercise this week. Another group went to Chesterfield Inlet to cover that area.
The soldiers had a community event in Rankin Inlet on Saturday that included demonstrations of military equipment, as well as the cooking up of some army rations.
About 500 members of Edmonton-based Princess Patricia's Canadian Light Infantry and the 38 Canadian Brigade Group from Manitoba are training alongside Canadian Rangers near Kugaaruk for Exercise Arctic Ram.
It started on Feb. 13 and runs until Feb. 26.
Two more military exercises are scheduled for March in Nunavut. Soldiers from Quebec will be in Iqaluit, Nunavut's capital city,  March 1 to 9 for Exercise Guerrier Nordique, and in Resolute March 20 to April 1 for Exercise Sabre Glace.
Related Links:
Canada:Canadian military practise landing plans on highway in North, CBC News
Finland:  US Army special forces in Finland for winter war games, Yle News
Norway: Norway's military intel chief admits to phone spying outside country, The Associated Press
Russia: Russia to reopen Soviet-era Arctic military base, Reuters
Sweden: NATO praises Sweden's defence, Radio Sweden
United States: Crews unearth military history on Alaska Glacier, Alaska Dispatch