Google Street View maps polar bear country in Canada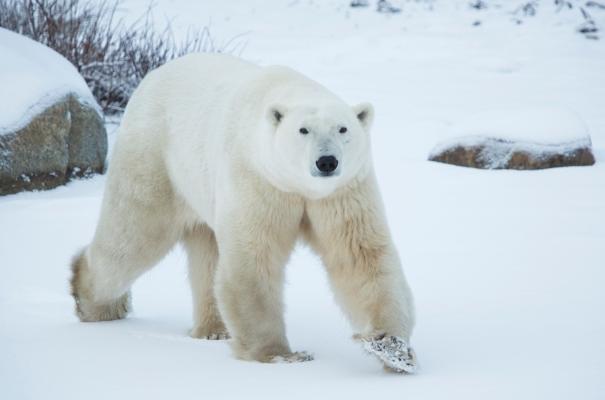 You can now pay a virtual visit to wild polar bears on the tundra via Google Street View.
The stunning tundra landscape of Cape Churchill and Wapusk National Park in Northern Manitoba, Canada — polar bears and all — went online today in honour of International Polar Bear Day.
"I think the whole thing is going to be really exciting," said Krista Wright, executive director of the conservation group Polar Bears International, which partnered with Google on the project.
"You have the opportunity to see polar bears in natural habitat. There's imagery of sparring bears – this behaviour that we see with male bears where they stand up on their hind legs and kind of play fight. There's images of a mom nursing a cub."
Wright said the goal is to connect people to the polar bears and inspire them to gain a better understanding of how climate change is affecting the Arctic and what impact that is having on bears and other creatures that are dependent on sea ice.
In the case of polar bears, they rely on the sea ice as a hunting ground for ringed seals, the staple of their diet. Hundreds of them gather at Cape Churchill on the Western Hudson Bay from mid-October to November waiting for the ice to freeze so they can end months of fasting and begin their hunting season.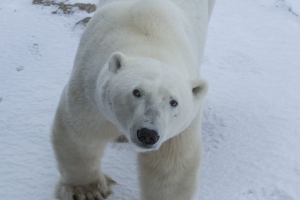 The unique gathering takes place here because it is the first part of the bay to freeze over. But as the climate warms, the ice freezes later even at this latitude, and the bears have to go longer and longer without food.
The new footage was taken during this fall gathering of polar bears with Google's Street View Trekker – 15 cameras mounted atop a backpack – from aboard tundra buggies operated by the local tour company Frontiers North. The vehicles are specially designed to take tourists and scientists out on the tundra to observe polar bears.
'True reflection' of tundra
Aaron Brindle, a spokesperson for Google, who co-led the project, said it's "very much a true reflection" of what it's like to explore the tundra during bear season.
"Just to be clear, you're not going to be seeing the polar bear through telescopic lens of a professional photographer," he said.
Polar bears will be visible, he added, but "sometimes they'll be hard to spot, sometimes they'll be closer up."
Wright offers a tip to those hoping to see polar bears: "The bears are really close to the sea ice, often."
Wright said other highlights of the Street View imagery include a chance to explore remote Wapusk National Park and to see how people live in a northern town like Churchill.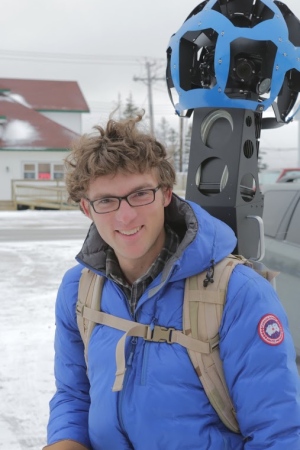 The town has unique features such as a "polar bear jail" for temporarily holding bears that have wandered into town to protect the public. And it has a single complex housing the town's hospital, school, library, hockey rink and movie theatre so no one has to brave the cold or risk a polar bear encounter to get from one to the other, Wright said.
The imagery isn't just a public outreach tool – it also has scientific value, Wright said. She added that the sea ice and surrounding ecosystem are changing "drastically" due to climate change.
"So it provides an opportunity to document what it looks like now, the potential to document what it looks like next year, five years from now, 10 years from now."
Polar Bears International has been trained by Google to capture Street View images and did so independently after the first week of the polar bear season. Wright said the group hopes to bring Street View back next year.
In the meantime, she hopes the images will inspire people to participate in International Polar Bear Day activities, such as the group's thermostat challenge. Polar Bears International is encouraging people to adjust their thermostat a few degrees to reduce their energy use and show their commitment to greenhouse gas reductions.