Concern over quality as fiber net expands in Sweden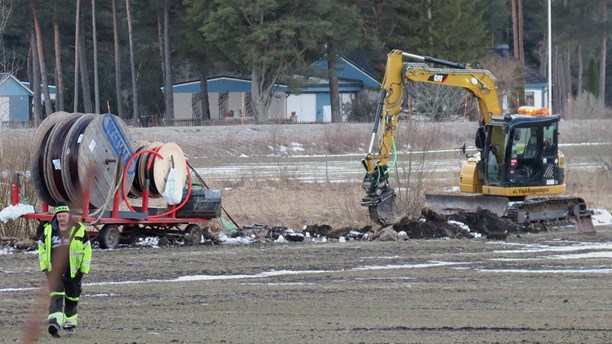 Concern about the quality of the future internet connection, as the broadband expansion is in the hands of enthusiasts lacking technical competence.
In the future, internet is expected to be a crucial for the delivery of many community services, including parts of the health care and elderly care. At the moment, more and more people are getting access to broadband, as fiberoptic cables are being put into the ground all around Sweden. But there is a concern about the quality of the new network as part of the expansion is in the hands of enthusiasts eager for that high-speed internet connection – but lacking in technical competence.
In Halland, on Sweden's West Coast, Swedish Radio met up with broadband enthusiast Christian Dahlqvist, who is part of a "fiber association" – a group on volunteers, who have spent the past two years planning for the fiberoptic cables that will attach a handful of houses and farms here to the internet highway.
"In an area like this, a fast internet means a lot for our livelihood, you have a chance to be distance working or distance learning. Loads of universities are offering teleconference courses and so on. But it demands that you have the support of a good internet connection," says Christian Dahlqvist.
He is convinced nothing would have happened in his area, unless people like him was pushing for it. But he feels the responsibility is weighing heavy on his shoulders to get it right.
"It is pretty easy to get a tube down that you put fiber cable in, but this needs to be reliable over time, we need to use it for public welfare: healthcare, alarms, television, radio, and whatever – so we can't build it just however we like, it needs to last," he says.
Importance of quality control
Christian Dahlqvist's concerns are shared by Karin Ahl, who the president of the European industry organisation Fibre to the Home.
"There is a lot of responsibility put on laymen in these community projects. Private persons who want fibre in their homes in the countryside, but who don't know telecom, don't know fibre and infrastructure," she says.
Karin Ahl says a lot is happening really quickly now and she is concerned about quality control. Asked if there is a risk that we are building a fiber network today that does not meet the standards of future demands, her reply is simple. "absolutely," she says.
In an interview with Swedish Radio's P1, Henrik Ishihara, special advisor to the IT-Ministe,r says he can understand that people think this is pretty advanced stuff that they are not used to.
"But we know that this system works really well in many parts of the country. So far, we have used over 2 billion kroner to support the expansion around the country. Had we not used the help of these civilian initiatives, the money would not by no means have stretched this far," says Ishihara.
Asked whether Christian Dahlqvist and people like him are unnecessarily worried, advisor Ishihara says of course not, but there is support, guidelines and guidance to ensure the fiber net is fit for the future.
"I am convinced that there is plenty of support around," he says, adding that they are looking at how this support can be simplified and developed further.
Related Links: 
Canada: Canadian company pitches $600M fibre optic cable project in Arctic, CBC News
Finland:  Finland: New Baltic data cable plan unfolding, Yle News
United States:  Alaska's North Slope may get blazing fast Internet access, Alaska Dispatch