Investigation into walrus disease closes with no culprit identified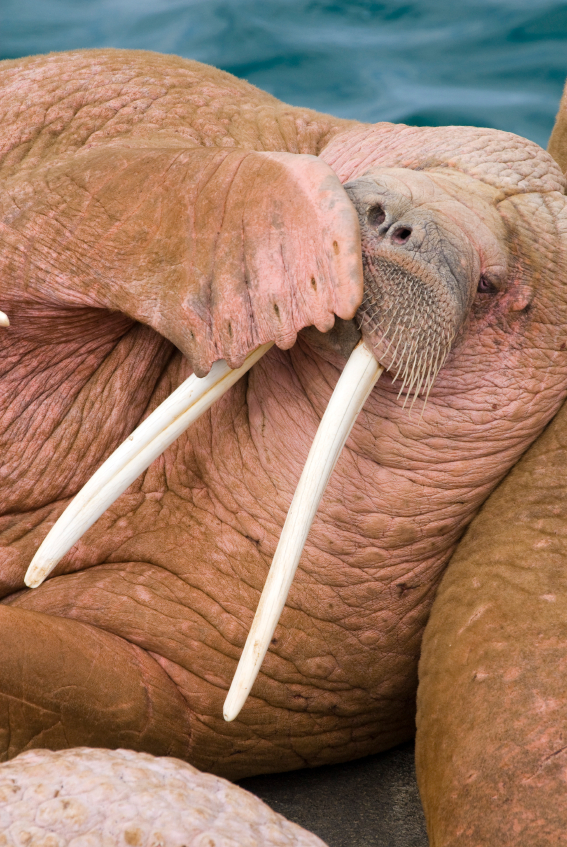 An investigation into a mysterious disease afflicting Pacific walruses has been closed with no culprit identified, federal agencies said on Monday.
The investigation into what scientists call an "unusual mortality event" — an unexpected die-off of a large numbers of animals — was launched in 2011 when seals and walruses began showing up with bleeding skin lesions, labored breathing, lethargy and hair loss.
But no walruses have been found with signs of any of those symptoms since last year, so the investigation is no longer relevant for those animals, said a joint announcement from the National Oceanic and Atmospheric Association and U.S. Fish and Wildlife Service.
As for the cause of the disease, scientists still are stumped. "They could never identify what caused the lesions," said Andrea Medeiros, an Anchorage-based FWS spokesperson.
Seal investigation continues
The investigation continues into the outbreak in ice seal populations, which were much harder hit and still show signs of the disease. The mystery disease emerged in seals in 2011, with more than 100 found to be afflicted. While 60 percent of those animals were found alive, some were near death, according to NOAA.
The disease was most prevalent among ringed seals, though other seal species suffered, said NOAA spokeswoman Julie Speegle. The outbreak was concentrated off Alaska's northern and western coasts, mostly in the Bering Strait region, she said, though one very ill ringed seal pup was found far south of there in 2012, on a beach near Yakutat in Southeast Alaska. Overall, an estimated 200 to 300 seals were affected, she said.
For walruses, which also started showing signs of the disease in 2011, the toll was lighter.
Of approximately 50 dead walruses in 2011 found near Point Lay, at a spot where the animals hauled out of the water to rest on shore, about 30 had lesions associated with the illness, said Joel Garlich-Miller, a walrus biologist with FWS. But those animals — mostly calves and small sub-adults — were determined to have died after being trampled, said Garlich-Miller, who was dispatched to the site to investigate. It is possible that the disease was somehow related to their fate, but it was not the cause of their demise, he said.
Of the approximately 20,000 walruses crowded at that haul-out site, 6 percent were estimated to have the skin disease, Garlich-Miller said. But those live animals did not seem much affected, he said. They were "otherwise normal and healthy in appearance," he said
Difficulty in tallying numbers
There were no reported deaths of afflicted walruses after 2011. A few suspected cases were reported in the following years, with the last such report coming from Barrow last August, Garlich-Miller said. One walrus suspected to have the disease was spotted in 2012, and two more in 2013, but those cases were not confirmed.
Tallying numbers has been difficult because biologists have relied on visual observations and sometimes photographs of animals that later swam away, Garlich-Miller said.
"Part of the problem is we don't have a diagnostic test," he said. "We can't say, 'OK, this animal has the disease.'"
For seals, symptoms of the disease are still appearing, though they are far less severe than in 2011 and 2012, Speegle said.
Native hunters have reported seeing a few seals with patchy hair loss, healed or healing skin sores and other signs of disease, she said. It is believed that those animals are survivors of the initial outbreak, she said.
Possibility of multiple causes
The investigation into the disease involved Native hunting organizations in Alaska and in Russia's Chukotka region as well as Russian biologists working in Chukotka.
Though no related cases were found in Russian waters, the Russian participants noted that similar outbreaks have occurred in the past on their side of the Bering Strait, Garlich-Miller said.
The potential causes looked into during the investigation of the mortality event included biological infections, viral infections and endocrine disruptions. Also investigated was the possibility of contamination from the Fukushima nuclear plant after the 2011 Japanese earthquake and tsunami disaster. A preliminary investigation in 2012 concluded that radioactive contamination was not the likely cause.
Investigators are now looking at the possibility of multiple causes, Speegle said. "At this point, the theory is that a number of factors contributed to the illness," she said.
If no cause is found, that would not be unusual. Of the 60 documented mortality events among marine mammals since 1991, about half had causes that could not be determined.
A final report will be issued on the investigation into the disease and its impacts on seals and walruses, officials said.
Contact Yereth Rosen at yereth(at)alaskadispatch.com
Correction: Joel Garlich-Miller's name was misspelled as Joel Garlach-Miller in an earlier version of this story
Related stories from around the Arctic:
Canada:  Warming Arctic may be aiding the spread of disease, CBC News
Greenland:  IPY Blog 2012 – Questioning the safety of traditional foods in the Arctic, Eye on the Arctic
Russia: Counting elusive Finnish forest reindeer in Russian Karelia, Yle News
United States:  New study helps scientists better understand the world of walruses, Alaska Dispatch