Volunteers and soldiers clean spilled oil by hand in Raahe, Finland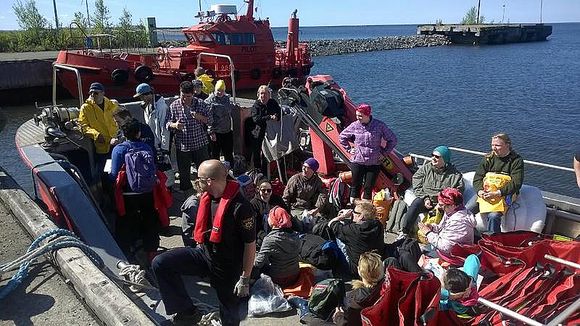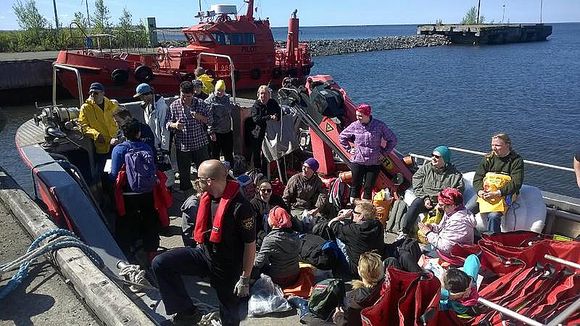 At least four islands have been polluted by heavy oil that leaked from the Rautaruukki steel mill in Raahe on Friday.
Conscripts, rescue officials and volunteers began cleaning the oil by hand on Monday.
Near the west-coast town of Raahe, the shores of four islands — Kumpele, Selkämatala, Vesimatala and Iso-Kraaseli — are coated with oil from an industrial accident early Friday.
Rautaruukki, which brands itself as Ruukki, estimates that about 13,000 litres of heavy fuel oil leaked from the plant during maintenance of the mill's blast furnace. Most of it soaked into the ground or was contained, but nearly 5,000 litres spilled into the nearby harbour via drainage canals.
Rautaruukki was replacing the blast furnace oil injection system with a pulverised coal injection system, which it hopes will lower raw material costs.
Strong odour
"The oil has spread over quite a large area," says Juhani Meistamo, fire chief of the local Jokilaakso rescue squad. "During the weekend we used booms to contain the oil in the harbour and collected the oil with sewage vacuum jetting trucks. The clean-up on the islands has to be done by hand, though. The oil is being scraped off rocks and put into buckets and bags. But we probably won't be able to remove all of it."
The company has meanwhile been digging up and replacing the polluted soil in the mill grounds.
An Yle reporter on the island of Iso-Kraaseli on Monday said there was a strong smell of oil in the air and large amounts of oil on the shoreline.
Rescue department staff and army conscripts were collecting the oil by hand. They told her it was very difficult to remove the oil from surfaces.
About 60 trained WWF volunteers were also at work with spades and brooms.
Company promises full clean-up
"We're very sorry about what's happened and we will continue this containment and cleaning work until the environment has been cleansed," said Raahen Voima CEO Pekka Inkala in a statement. The company, a joint venture between Ruukki and the local power utility EPV Energy, took over ownership of the mill in March.
Raahen Voima says it is investigating the chain of events and the environmental impact in close cooperation with authorities. So far it has not made an estimate of the costs. It says the oil was not used in the steel mill's operations, but was intended as fuel for the power plant on the premises. The events have not impacted production at the mill, it says. The metals and engineering company Ruukki is nearly 40 percent state-owned.
Raahe is some 75 kilometres south of Oulu on Finland's upper west coast. It is just north of Hanhikivi, the site of the planned Fennovoima nuclear power plant.
Related stories from around the Arctic:
Canada:  Nunavut fuel spills are down, but accidents still happen, CBC News
Finland: Talvivaara waste water under scrutiny for uranium in Finland, Yle News
Russia: Putin signs law allowing oil and gas corporations to defend infrastructure, Blog by Mia Bennett
Sweden: Baltic nations not prepared for large oil spills, Radio Sweden
United States: ConocoPhillips will pay Alaska $312,000 after North Slope oil spills, Alaska Dispatch