Did Arctic fox evolve from Himalayas?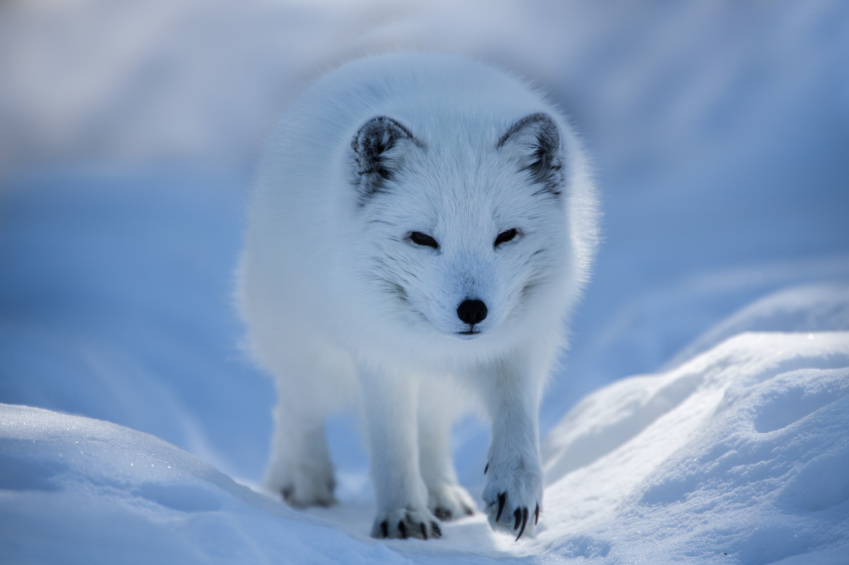 Today's Arctic foxes are likely descendants of foxes that acclimated to cold and extreme conditions millions of years ago in the Himalayas, claims a new study that examined fossilized remains found in Tibet.
The study, published in the academic journal Proceedings of the Royal Society B: Biological Sciences, challenges the theory that the Arctic fox evolved in Europe, and spread its range as the last series of Ice Age cycles hit about 2.6 million years ago.
The study is based on the remains of a newly-discovered species of fox, between 3 million and 5 million years old, that researchers say appears to be the first evolutionary link to modern Arctic foxes. The fossilized fox has dental features that are "highly hypercarnivorous," suitable for the mostly meat diet that is common for Arctic predators, including Arctic foxes, said the study, led by Xiaoming Wang of the Natural History Museum of Los Angeles County.
The fossilized fox remains were found in the Zanda Basin in southern Tibet during a 2010 expedition led by Wang, the museum said.
 Discovering cold-weather mammals
Also found during the expedition were remains of other extinct species, including woolly rhinos and types of horses, snow leopards and other cold-weather mammals.
The discoveries support the theory that several modern Arctic animals are descendants of animals from ancient Tibet that were already adapted to cold and extreme conditions before the Ice Age. The discovery site is at an elevation higher than 14,000 feet, and the ancient animals' remains have been found at lake margins. It is a difficult working environment, said Wang.
"There are a lot of challenges," Wang said in a statement issued by the museum, "but in paleontological terms, it is a relatively unexplored environment. Our efforts are rewriting a significant chapter of our planet's recent geological history."
The cold Himalayan region is sometimes referred to as Earth's "third pole," and the study title — "From the `third pole' to the north pole" — invokes that reference.
The newly-discovered fox species has been named Vulpes qiuzhudgingi, in honor of Qiu Zhuding, a paleontologist at the Chinese Academy of Sciences in Beijing, the journal Nature reported.
Contact Yereth Rosen at yereth(at)alaskadispatch.com
Related stories form around the North:
Russia:  Is mercury harming foxes in the Russian Arctic?, Eye on the Arctic
Sweden:  Problem wolf returns to North Sweden, Radio Sweden
United States:  Red foxes conquering Alaska's North Slope: study, Alaska Dispatch