Heritage hunting in Finnish forests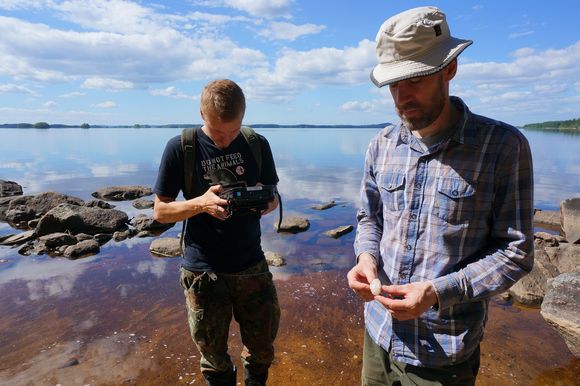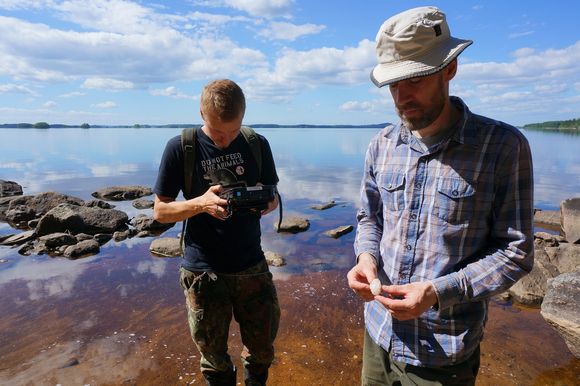 In state forests, the search is on for ancient artefacts and sites. Archaeologists working for Metsähallitus, the state enterprise managing forests, have been scouring the woods for five summers.
Their oldest finds date back to the Stone Age.
Archaeologists Esa Hertell and Olli Eranti move through the woods of the eastern municipality of Ilomantsi, looking for signs of human life from times gone by.
Hertell and Eranti work for Metsähallitus, the state-owned enterprise that administers more than 12 million hectares of state-owned land and water areas in Finland.
At the southern tip of Lake Hattujärvi, the men stop to examine a depression in the ground, which turns out to be the floor of a Stone Age dwelling. People stayed here more than 9,000 years ago.
Hertell says such sites can often be found by reasoning.
"These kinds of Stone Age sites are usually found on sandy lake-shores, on the sunny side," the scientist notes, adding: "Sometimes there are coincidences, but we first look at the map and then go to opportune places."
While basing most of their work on maps, Hertell and Eranti sometimes also get tipped off by locals as well as other Metsähallitus forest planners.
Four million hectares, with euros to match
This is the fifth summer such an inventory has been carried out in forests across the country. Four million euros from wood sales have been budgeted towards this work of mapping out cultural heritage hidden in Finnish nature. By next year, when the project finishes, some four million hectares of land should have been surveyed.
"This work will benefit every Finn who is interested from where we come from, what life was like before, and what lies here in the forests," Hertell says.
A dream job
Aiding Hertell is archaeology student Olli Eranti. For him, surveying the land for ancient findings is a dream job, and in many ways very similar to the kinds of work that graduated archaeologists would do.
While searching the shoreline of Lake Koitere, Eranti spots a group of white, sharp-edged stones under the water. According to the men, these stones were used by Stone Age people to cut meat and scrape out skins.
Eranti marks the spot in a computer. The data will later be moved to Metsähallitus and National Board of Antiquities databases.
The Board of Antiquities' heritage registry is a database open to the public, while Metsähallitus will use the data in making decisions on protecting sites.
Related stories from around the North:
Canada: The discovery of an Arctic shipwreck, Radio Canada International
Finland: Archaeological sites targeted in Finland, Yle News
United States:  Crews unearth military history on Alaska Glacier, Alaska Dispatch