Heat taking a toll on Finland's fish farms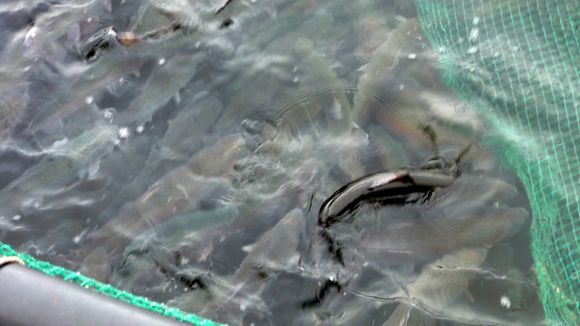 The long heat wave has become a challenge and a threat for the country's fish farms. As water temperatures have risen, fish mortality has also shot up. Fish farmers are already worried that a large part of this year's production will be lost.
"I can't recall the situation ever having been so difficult," says Willhelm Liljeqvist, Vice-President of Salmonfarms, an enterprise that raises and processes fish at Kasnäs in the south-western municipality of Kemiönsaari.
In recent days, the water temperature at three meters depth has been at 24 degrees, unusually high. According Liljeqvist the next couple of weeks will be crucial. If the heat wave continues, domestic production may fall dramatically.
The situation is the same for the Heimon Kala fish farm at Houtskari in the archipelago.
"We stopped feeding the fish a few weeks ago and now we hope to soon get pumps so we can oxygenate holding areas," says Site Manager Harri Urponen. "The situation is difficult, and production will fall and show in our results."
Liljeqvist, along with many other fish farmers is hoping for a warm autumn that could save the situation.
"But, if the weather turns, and it suddenly becomes cold, then consumers can expect to see a higher proportion of imported fish on their plates," notes Willhelm Liljeqvist.
Related stories from around the North:
Canada: Wildlife endangered by Yukon warm weather, CBC News
Greenland: Greenland meeting to discuss Arctic fishing, Radio Canada International
Sweden: Sweden hopes for EU money to study Baltic fish, Radio Sweden
United States: Weather takes a toll on wildlife, environment in Alaska, Alaska Dispatch