Woman mauled by brown bear on Cordova hiking trail describes attack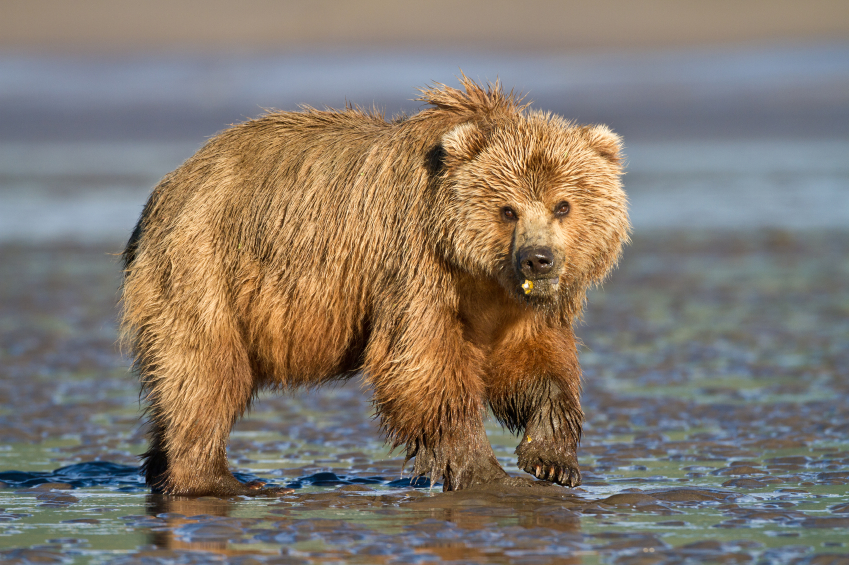 Thea Thomas tried to step off the trail as a brown bear sprinted toward her, chasing a friend's dog that she had brought along for a hike in Cordova on Tuesday afternoon.
Yet in an instant, Thomas was flat on the ground, face-to-face with an angry bear that bit her repeatedly during the mauling on Heney Ridge Trail.
"By the end, I was thinking, 'I could die here,' " Thomas said from an Anchorage hospital Wednesday, where she was medevaced after the attack.
Thomas, a 57-year-old commercial fisherman, has lived in the Southcentral Alaska community of Cordova for 32 years, she said. "I hike those trails all the time."
Heney Ridge Trail
Heney Ridge Trail is a 4.1-mile trail that follows Hartney Bay before climbing up through spruce-hemlock forest, salmon-spawning streams and a mile of steep incline up above the treeline, according to the U.S. Forest Service website.
The trail "is probably the most common place over the 30 years I've lived there that I've seen bears," she said.
Bears on the trail have always run off at the first sight of humans, she said, and are normally seen near the trail head.
Thomas had hiked far past the trail head on Tuesday, past salmon carcasses that had washed up from a high tide, and past where the trail veers away from a salmon-spawning creek.
Knocked to ground
The trail had opened from dense forest into a series of grassy meadows. She was walking on a boardwalk that cut through the meadow. The two dogs — her 1-year-old blue heeler, Kiska, and a friend's Akita — had run off out of sight, she said.
Then, "I started to hear this growling," Thomas said. "Immediately I thought 'That's not a plane — that's something else.' "
The growling seemed to be about 25 feet away. Then she saw the Akita run up onto the trail and sprint toward her. "The bear was literally on its butt," Thomas said. She tried to step off the trail.
The Akita ran past her, but the bear didn't. Within seconds, the bear had knocked her flat on the ground.
"He was so pissed off, he was growling, angry, shaking his head," Thomas said. "He just started biting me. I'm yelling 'No! No!'" she said.
She described the brown bear as 6-7 feet tall on its hind legs, with a thick auburn-orange coat. The bear appeared to be in good health.
"I kept thinking he was going to stop," Thomas said.
Looking for escape
But the attack continued. The bear walked away a couple of times, but would then turn back and bite her again, she said. At one point she tried to get up, but it pulled her back, she said.
"He wanted revenge; that's what he acted like," Thomas said.
She huddled into the fetal position and placed her right arm over her head, which she believes protected her neck and head. "He took a pretty darn good chunk out of my right arm, my right leg, my right side," she said.
"I don't remember him ever clawing me," she said.
The bear continued to attack, shaking her and trying to roll her over. "Time seemed to kind of slow down a little and I thought, 'Well, I might not get out of this one,' " Thomas said.
Eventually, the bear walked off. She waited a while, "and then I had to walk out because there was no one there," she said. She thought, "I've just got to start walking."
Her dog, Kiska, joined her on the trail. "I was really happy she was OK," Thomas said. Thomas didn't look down at her injuries, but she knew there was blood. Kiska was licking at the blood on her pants, she said.'
`Exceedingly lucky'
She walked about a mile and a half back to the car. "It was very painful," she said, and she was dizzy. Once she got to her car, the Akita was waiting for her.
She was medevaced to an Anchorage hospital on Tuesday. "I've got a feeling I'm going to be here a while," she said.
The bear bit her around seven times, she said. The worst bites were to her back and inner thigh.
Thomas said she was exceedingly lucky. "He didn't get any major arteries or internal organs," she said. "He didn't get my head or neck."
The wounds are so deep that they need to heal from the inside out before getting surgery to close up the wounds, she said. Doctors also mentioned getting plastic surgery eventually, she said.
Despite the trauma, "I feel fine," Thomas said.
Looking forward, "I will never go into the woods without bear spray, or a horn, or a gun, again," Thomas said.
There are no plans to go after the bear, said Charlotte Westing, wildlife biologist for Fish and Game in Cordova.
"The bear acted in defense of its food source," Westing said. "We believe that's the nature of the attack."
"The message I would like for people to understand is that pets are a real wild card when you're hiking on trails," Westing said.
On Wednesday, the U.S. Forest Service issued a temporary trail closure of Heney Ridge Trail, which was closed to the public until further notice. Westing said that the trail will likely be closed for a week.
-Contact Laurel Andrews at laurel@alaskadispatch.com or on Google+
Related stories from around the North:
Canada:  Polar bears surprise residents of northern Canadian community, CBC News
Finland: Rains force bears out of hibernation in Finland, Yle News
Russia: Russia hosts meeting on polar bears, Eye on the Arctic
Sweden: Bear hunt quota worries reindeer herders in Sweden's Arctic, Radio Sweden
United States: Alaska – Bears in the neighborhood trigger fear one time, joy the next, Alaska Dispatch