Finland's president dismisses claims of Russian 'appeasement'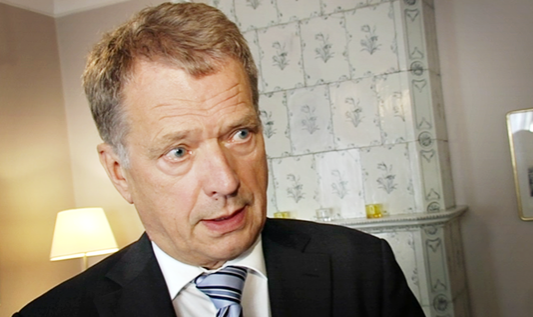 Finland's president Sauli Niinistö has refuted claims by the leader of the Green League, Ville Niinistö, that the government's approval of a new, Russian-built nuclear power plant resembles Finland's Cold-War policy of Soviet appeasement.
However the President refused to be drawn on whether Ville Niinistö – his nephew – had gone too far in making his claims in the Financial Times this week that Finland's actions smacked of Russian appeasement, known as Finlandisation.
"We have a clear policy, which in no way constitutes Finlandisation," the President told Yle, Finland's public broadcaster on Friday.
On Thursday the younger Niinistö walked his party out of the governing coalition in protest at cabinet approval of plans for a new nuclear power plant.
Ville Niinistö criticised the fact that the deal effectively involved handing a major infrastructure project worth billions of euros to the Russian state nuclear contractor Rosatom. Under current proposals Rosatom would own 34 percent of the plant.
The move would also increase Finland's energy dependency on Russia, he claimed.
"There is a sense of Finlandisation here," Niinisto told the Financial Times. "We are giving the Russians the very leverage they are looking for with the west and the EU. This puts us into a very vulnerable position," adding: "Bluntly speaking, it is totally bewildering that the rest of the government thinks this is OK."
Failed to thank Lenin
The President said that as a young politician he had personally experienced Finlandisation, a term describing the control of an independent country's domestic affairs by a larger state.
In Finland's case this meant Soviet vetting of Finnish political appointments, as well as a close policy of media control. The policy is most strongly associated with the rule of President Urho Kekkonen, who maintained close relations with Moscow during the Cold War.
"I was heavily criticised when in an Independence Day speech I failed to thank Lenin for Finland's independence. That was Finlandisation," Niinistö insisted.
Talk all over the world
The President also dismissed the claim that Finland's image has been damaged by recent international criticism of Finland's nuclear plans and its wish to delay the latest round of EU sanctions.
"We hear a lot of talk all over the world, there are enough Bäckmans out there," Niinisto told Yle, referring to the Finnish political activist Johan Bäckman who is well known in Russia for his staunch pro-Kremlin views, and criticism of Finnish policies. Bäckman's portrayal in the Finnish media has at times resembled that of a national hate figure.
Niinistö added: "We have a very clear line which we stick to closely." He denied the claim that the Fennovoima nuclear power station is a "Russian project". "It's a Finnish project, in Finland," he insisted, adding that the issue falls outside his presidential remit.
On the subject of whether Finland is too dependent on Russia, Niinistö said: "Neighbours are of course more interdependent than countries which are further apart," adding: "We have tight economic links with Sweden too, albeit in different sectors."
Related stories from around the North:
Canada: Canada boycotts Moscow Arctic Council meeting over Ukraine, Eye on the Arctic
Finland: Finland's environment minister defends "Finlandisation" comments, Yle News
Norway:  Nordics rethink security after Ukraine crisis, Yle News
Russia:  Sanctions on Russia – Helping or hindering the Arctic environment?, Blog by Mia Bennett
Sweden: Sweden pushes for tougher Russia sanctions, Radio Sweden
United States:  Can an aggressive Russia remain U.S.'s nice Arctic neighbor?, Alaska Public Radio Network