Alaska dogs get taste of dryland racing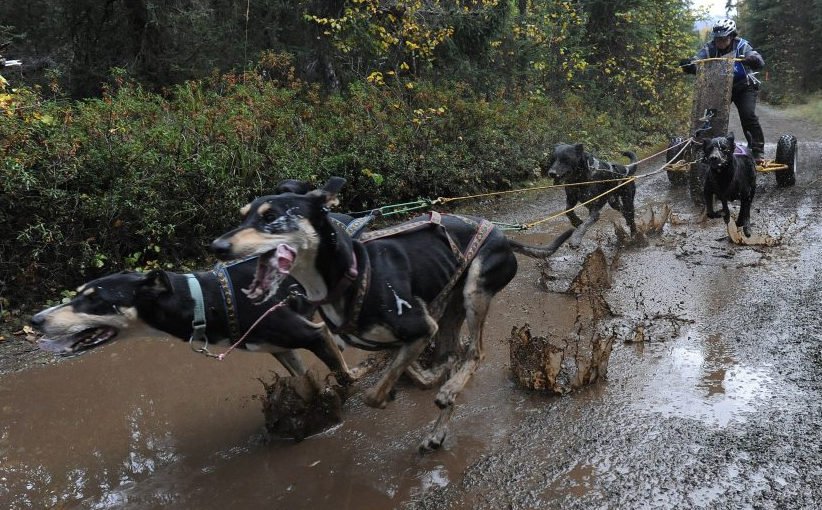 Jenni Van Muijen was a mess from head to toe Sunday. Everything she wore was in need of a washing machine, her face was caked with mud and her right shoulder was in pain from the fall she took on Chugiak's Beach Lake trails.
Good chance she'll be back for more.
Van Muijen and teammates Chevy, an Australian shepherd, and Elim, an Alaskan husky, were among the competitors at what is believed to have been Alaska's first dryland sled-dog races.
About two dozen humans and even more dogs participated in the event, which included four kinds of racing –— four-dog carts, two-dog scooters, one- and two-dog bikes (also called bikejoring) and one-dog running (also called canicross).
Van Muijen competed in the two-dog bikejor race, and even though she claimed the red lantern for finishing last in the nine-person field, she couldn't stop smiling when it was over.
"Just seeing how much my dogs love it," she said. "They are so happy, and that makes me happy."
Less snow, popularity elsewhere
Credit the idea for the races to Chugiak Dog Mushers Association board member Deb Summers, who said dryland racing is popular in Europe and the Lower 48.
"We haven't had it here because we have so much snow," she said. "But our season seems to get pushed back a little more each year."
Participants ranged from experts to novices, from a 110-pound Great Dane mix to a 15-pound pedigreed Cavalier King Charles spaniel.
Given the turnout and the enthusiasm –— and considering that Alaska winters seem to be making later and later appearances each year –— dryland racing could provide an early fix for mushers and skijorers eager to harness their dogs and race into the woods.
"It was fun," said Pam Schamber, a veteran of skijor and sprint mushing races who competed in the four-dog cart race and two-dog scooter race. "It's a different sport because you're dealing with mud in the face and you're dealing with puddles, but we wait for snow all year, so it's fun."
All of the races were held on the two-mile mushing loop at Beach Lake, which is less swampy than other trails in the area and therefore able to handle traffic from all of the carts, scooters, bikes, feet and paws, Summers said.
Last week's steady rain left puddles and mud, but the trail was fast enough for bikejorer Todd Whitcomb and his two dogs to cover the two miles in less than six minutes. His time of 5:55 was the fastest of the day in any division.
Much like sled-dog race
The race attracted one Iditarod musher– — Nicolas Petit, who placed second to Whitcomb in the two-dog bike race and fifth in the four-dog cart race –— and at least one Junior Iditarod veteran.
Pitch, a two-time finisher of the 150-mile Junior Iditarod, was so excited to be in harness and on the trail that before the one-dog canicross race began, he kept lunging forward and dragging owner June Takagi five feet at a time. Eventually someone came over and served as a handler, keeping Pitch in place until the race started.
"Since my kids outgrew the junior division he hasn't been in many races, so he was dying to go," Takagi said.
The scene was very much like what you see at a sled-dog race. Dog trucks filled the parking lot, and the sound of barking, howling hounds made conversation difficult at times. Handlers were needed for the cart race, one for each dog and usually three or four for each cart. All that was missing was the snow and cold.
Another set of races will be held Sunday, Summers said. She hopes the sport becomes popular enough for a longer season, but even that would be limited to six or eight weeks from about mid-September to late October, when the weather is guaranteed to be cool. "Temperatures limit what the dogs can do," Summer said.
Equipment needs
The cost of dryland racing varies. Little is needed for canicross — Trinity ran on a regular leash, although race organizers told Cindy Rabe that in the future she'll need to wear a belt with a tow line that attaches to Trinity –— but scooters and carts require bigger investments. Schamber said she bought a used three-wheel cart for $700, but they can run higher.
Experience isn't necessary. Neither is a sled dog.
Kayle Wagenfehr entered the canicross race with Katie, a black-and-white shelter dog who moved with her from Montana.
"I was mostly concerned when other dogs were passing if she'd want to play with them," Wagenfehr said. "I felt in control except one time when she ran around me."
Wagenfehr came to the race with friends Chris Sitbon and Rabe; the three participate with their dogs in flyball and wanted to see what canicross was like. Sitbon ran with Gus, a pedigreed cocker spaniel, and Rabe ran with Trinity, a Cavalier King Charles spaniel with dog show experience.
"From a show dog to mushing," Rabe said with a laugh.
'When they see another dog do it, they figure it out'
Michael Teo started skijoring with his dog Aries because he wanted to exercise his dog and himself at the same time, and walking wasn't enough of a workout for his 110-pound dog, a Great Dane mix.
His advice is to introduce your dog to the sport someplace where other people are doing the same thing.
"If you and your dog are in an empty park it can be confusing to them, but when they see another dog do it, they figure it out," Teo said. "It's a big step to come to that first race and feel like you don't know what you're doing. But it turns the light bulb on for the dog."
Reach Beth Bragg at bbragg@adn.com
Related stories from around the North: