ARCTREX tests Arctic oil spill tracking techniques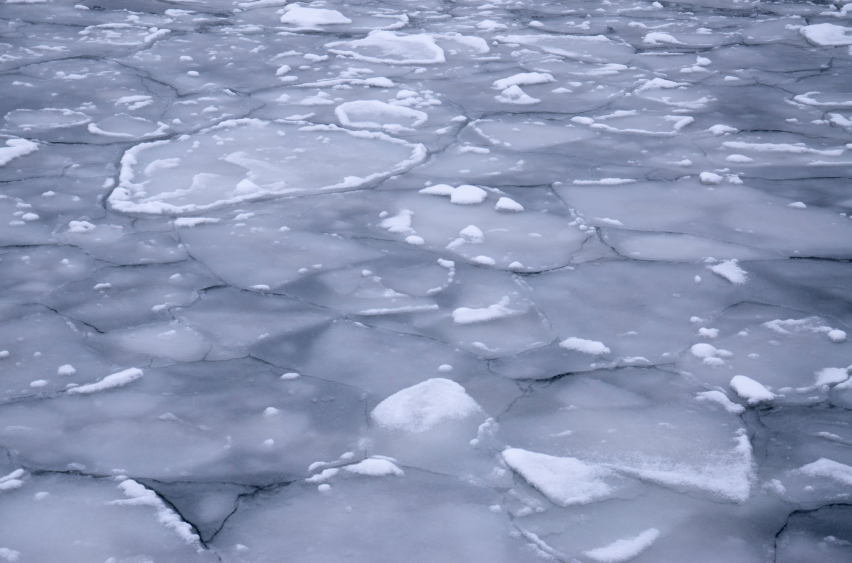 Offshore oil and gas exploration has become increasingly prominent over the past several years.
But, questions remain about how effective response efforts would be if there's an oil spill. Last fall, scientists began tackling one piece of the puzzle — tracking how spilled oil would move and spread in the Arctic Ocean.
The Arctic Tracer Release Experiment – or ARCTREX – is a step toward understanding how oil – or other contaminants – would spread in the ocean.
The team couldn't release oil into the water, so they used a red-colored dye instead.
"It's a non-toxic, kind of like a food dye that you use for cupcakes," Peter Winsor, an associate professor of oceanography at the University of Alaska Fairbanks, said.
Mapping spills
He says the goal of the experiment wasn't necessarily to mimic crude oil, but instead to better understand how the ocean could disperse any number of substances underwater.
"The dye will disperse by the ocean currents and we think that the dye is a good representative of something we can map over time to really learn how to map something that is spilled into ocean in great detail," Winsor said. "It's not a perfect representation of crude oil; it might be a fairly good representation of crude oil that has subject to dispersants."
The team released dye on the surface of the ocean in two different locations in September, when the edge of the Arctic sea ice is still far to the north. The first batch of dye was deployed at the Berger lease patch, about 60 miles off Alaska's northwest coast in the Chukchi Sea. Winsor says this release proved the crew could successfully track the dye and relay the data in near-real time to NOAA's Office of Response and Restoration – where it could be mapped online.
"That particular dye release was very exciting because it stayed in the upper ocean – the top 50 meters," Winsor said. "It never spread any deeper, and fairly rapidly was stretched, strained and deformed over time as we mapped it back and forth with our research vessel and some of our autonomous underwater robots."
The crew tracked the dye for about four days before moving onto the next location, a little closer to Wainwright. The second release was much closer to the coast and near a large front — where there's a big difference in temperature and salinity across a very short distance…and Winsor says the dye there tracked much differently.
"In this case, the dye left the surface of the ocean within 1 hour and 40 minutes and basically started to sink and follow that water mass down through the water column towards the sea floor," Winsor said. "So, that was interesting from an oil spill management perspective, because after 1 hours and 40 minutes, you wouldn't see a trace of it anymore at the sea surface."
"So, if you do an overflight with an airplane or an autonomous flying vehicle, you wouldn't be able to see it anymore."
Tracking without support vessel
The team used three methods to track the dye: a pump system on the ship to get measurements at the surface; a small vehicle towed behind the ship to gather data further below; and with autonomous underwater vehicles, which are about 5 feet long and weigh 110 pounds. Winsor describes them as large, yellow bananas with wings – and they use an unconventional propulsion method.
"They suck in a little bit of seawater, which means they get heavy compared to the surrounding water and sink slowly through the water column. But, because of the wings they translate that to forward moving…or propelling themselves forward," Winsor said. "So, they slowly glide from the sea surface to the sea floor, and then they pump out the same amount of water, and now they're slowly drifting up to surface and the wings propel them forwards."
"We're able to run them for several weeks to several months on just a single load of batteries."
Winsor says that efficiency coupled with the ability to program them via satellite means they could prove to be a valuable tool in tracking spills, even without a support vessel in the area.
Though this is a good first step, Winsor says the data is specific to this type of area and wouldn't be a good representation of a place with deeper water like the Gulf of Mexico.
"This is a very different ocean; it's 40-50 meters deep – only a shallow Arctic shelf sea that's very dominated by wind and hydrographic properties and water coming up through the Bering Strait," he said.
Winsor says he plans to take a team out to the same areas next year and release dye at the bottom of the sea to simulate what could happen if an Arctic oil well blows out.
Related stories from around the North:
Canada: Study envisions fallout from oil spill in Arctic Canada, Alaska Dispatch
Finland: WWF Finland concerned about oil leak in Baltic Sea, Yle News
Greenland:  Arctic seas – little ability to cope with an oil spill, Radio Canada International
Norway:  IMO completes Polar Code environmental rules, Barents Observer
Sweden:  Crews battle weather to clean up oil spill in western Sweden, Radio Sweden
United States: Report says Chukchi Sea drilling runs heightened risk of large spill, Alaska Public Radio Network