'Ultimate Survival Alaska' star James Sweeney has mixed feelings about reality TV fame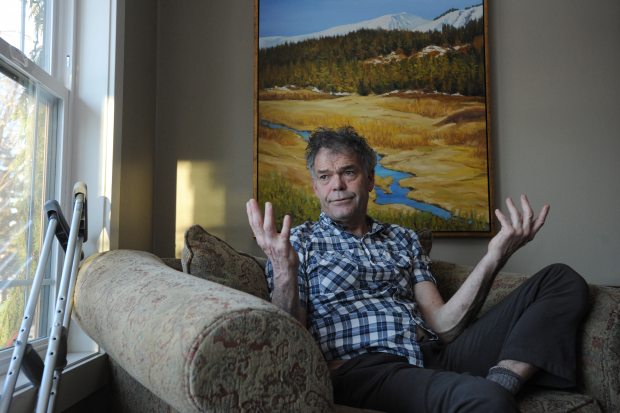 If you've watched the reality TV show "Ultimate Survival Alaska," you know James Sweeney.
In a field of mild, mostly upbeat competitors, he stands out as a hot-blooded mountaineer curmudgeon, frequently out of harmony with his hippie teammates.
As the third season of the show airs (filmed in summer 2014), Sweeney is learning something known by reality show villains since David "Puck" Rainey of MTV's "The Real World" and "The Apprentice's" Omarosa Stallworth: The bad guy is the only one people remember.
"I'd never get this much attention if I was boring," Sweeney said.
Sweeney, a 58-year-old mountaineer and writer who lives in the Turnagain Arm community of Hope, says he's OK, for the most part, with how he's being portrayed on the show. But he says he's no bully.
"And I'm not rude," he said. "I have meticulous manners. I'm a very 'please,' 'thank you' kind of guy."
"They're picking me to be the hard-ass"
From the beginning, when producers from the National Geographic Channel approached him about being on the show, he had an inkling he'd be cast in an unflattering light.
"I don't think they actually picked me to be a bad guy," he said. "They're picking me to be the hard-ass."
He says he did the show for two reasons.
First, he wanted to sell his book. Sweeney, a mountaineer with long experience in Alaska, also has one of the state's most famous survival stories.
In 1989, Sweeney and a climbing partner were knocked from an ice wall in the Alaska range and spent eight days stranded, badly injured and pounded by seven avalanches. An attempt to rescue the pair by plane was thwarted when the pilot's landing gear was damaged.
Both survived and the story was told and retold in newspapers and magazines. In 2006, the Discovery Channel aired an hour-long documentary on the ordeal, "I Shouldn't Be Alive: Alaskan Avalanche."
Sweeney wrote a book about it, originally called "Marine Life Solidarity Expedition" but renamed  "A Thousand Prayers."
More exposure
Reality TV, he figured, might give him the exposure he needed.
"I'm just a little guy in Alaska without a big publisher," he said. "I want to be on the best-seller list. I want a movie deal."
The second reason he did the show: He was unattached.
"My dog had died," he said. "I would never have left her to do the show."
Sweeney can't give away details of how his tenure on the show turns out, according his contract with the National Geographic Channel.
He says he liked the cameramen — "they were studs" — and harbors no ill will toward his teammates, even "Cluck," the North Carolina whitewater kayaker with no alpine experience he is often shown in conflict with.
"The tension with Cluck was real. I regret we didn't get along. It would have been a lot more fun. But I don't know any other way around it."
Cluck, whose real name is Scott McCleskey, is less equivocal. He called Sweeney a "nasty, disrespectful old man," in a December interview with his hometown newspaper in Asheville, N.C.
Unhappy with producers
What he's most unhappy about is what he says was the behavior of producers, who he claims tried to scrape nasty gossip about him from people in his hometown of Hope.
"The producers — yeah, I don't really like 'em," he said. "If you come into my town, talking shit about me, I'm going to bring it up in the paper."
Chad Sandhas, a Washington, D.C.-based spokesman for the show, said he couldn't comment other than to say Sweeney's "story arc on the show takes an interesting turn in the coming weeks."
Sweeney fractured his femur in a fall on ice in Hope in January. He crawled, soaked and shivering, to a cabin where he spent an excruciating night before a friend arrived to take him to the hospital.
While laid-up and recovering, Sweeney has been paying particular attention to online conversations about the show, sometimes jumping on message board threads and Facebook discussions to talk back at commenters.
"I told one guy little girls up here could kick his a–. He said, 'You're throwing down on Facebook?' "
Sure, why not? He's trying to seize the moment for all its worth, he said.
"I have their attention. Now I have to make them love me."
Related stories from around the North:
Canada: Web doc sheds light on Inuit relocation in Arctic Canada, Eye on the Arctic
Finland: TV-loving domestic reindeer becomes celebrity in Arctic Finland, Yle News
United States: Brace yourself: More Alaska reality TV on the way, Alaska Dispatch