Fort Simpson wants N.W.T. to help with erosion problem
The village of Fort Simpson sits on the banks of the Mackenzie River, but now the river view might be getting a little close for comfort.
Erosion in the banks of the Mackenzie is threatening roads, power lines and even the community's power plant. The water treatment plant is only about 30 metres from the river.
"You never quite know in that type of area that 20 feet of the riverbank could let go," says mayor Sean Whelly.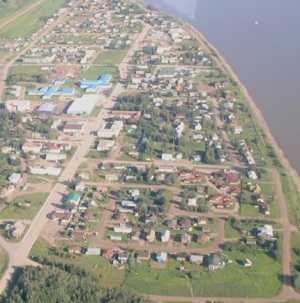 Whelly would like to see Fort Simpson band together with other communities threatened by erosion and lobby the territorial and federal governments for funds.
"A lot of this fighting mother nature stuff is not going to be an option," he says.
The community commissioned a report in 2012 to look at ways to shore up the riverbank. It returned solutions that would cost the community tens of millions of dollars.
Whelly says that the community can't afford to build a new water treatment plant, or move the old one.
Nahanni Butte is another community plagued by its proximity to a river. It sits near the confluence of the Nahanni and Liard rivers and was almost completely flooded in 2012.
Chief Mike Matou of the Nahanni Butte Dene Band says the consistent erosion means his band office will eventually need to be moved.