Arctic-spanning fiber-optic project moves ahead in Alaska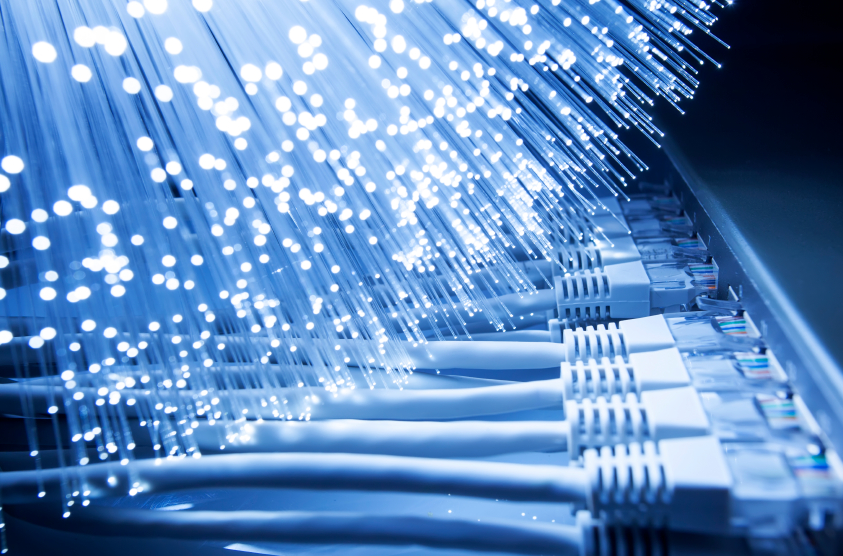 Alaskans are playing a bigger role in an international project that seeks to link Europe and Asia with a fiber-optic cable running along the Arctic Ocean, with anticipated offshoots to remote Alaska communities and the oil-field complex of Prudhoe Bay.
But while the Alaska phase of the project remains on track to be completed by the end of next year, the 10,000-mile-long effort connecting Japan with the United Kingdom won't happen within that time frame, as previously hoped.
Factors in the delay include sea ice that lingered in the Northwest Passage in northern Canada the last two Septembers, a challenge for cable-laying ships that must maintain a pre-defined course, said Elizabeth Pierce, CEO of Anchorage-based Quintillion Holdings. "You can get a transport ship through, but a cable-laying ship is a different story," she said.
It's currently not known when the entire undertaking will be completed, she said. Such delays can be part of the territory for large and complex fiber-optic projects.
"They are not unheard of, even for projects dealing with more benign environmental conditions," Pierce said.
Alaska company takes greater role
Arctic Fibre, a Canadian company, initiated the project to build the first Asia-Europe telecommunications line through the Arctic. Project partner Quintillion initially handled just the Alaska portion of the effort. Now it has a say in the entire venture.
"When we originally started, we didn't have a lot of voice in the construction of the backbone system," said Pierce. "We now have a seat at that table."
That change has been supported by a large lead investor, a private equity group in New York that prefers to remain anonymous for now, she said.
Benefits for northerners
A link between Asia and Europe through the Arctic will provide a shorter route and faster data delivery than fiber-optic cables linking the continents through the Lower 48. One benefit is allowing quicker transactions for international stock traders trying to gain a competitive advantage.
"Even one extra millisecond is valuable," said Pierce.
Aside from faster service, there's lower risk of outages with a line crossing the Arctic, she said. Human error is the most common cause of those disruptions, and less ship traffic in the Arctic reduces the risk of damage to cables caused by such things as dragging anchors or trawling gear.
"The ice cover provides a strong layer of protection that keeps people away," she said.
The project has drawn plenty of interest, including from telecommunications companies that want to use the service, she said.
"We certainly see a very large customer interest in a high-speed connection between Europe and Asia that is also secure," Pierce said.
A complex project
Still, the $700 million effort faces huge hurdles. An unrelated but similar project, being spearheaded by a different group that included Anchorage Mayor-elect Ethan Berkowitz, came to a halt because anticipated funding never arrived.
Managers involved in the Arctic Fibre project are moving ahead carefully to ensure routes and risks are thoroughly studied, Pierce said.
Plans now call for a phased approach. Once the Alaska portion of the project is completed, investors plan to work on the Asia to Nome link, followed by the Prudhoe Bay to Europe link, Pierce said.
"We will methodically work through all elements to deliver a smart project," she said.
As part of the Alaska phase, Quintillion plans to install a fiber-optic cable between Fairbanks and Deadhorse. Permits have been secured for that effort, and ground is expected to be broken in May, she said.
Quintillion also plans to develop a subsea line extending from Prudhoe Bay and coming ashore at the Western Alaska community of Nome, providing service there.
Four additional Alaska communities — Kotzebue, Point Hope, Wainwright and Barrow — are also expected to benefit from the subsea cable, with spurs from the main line feeding into those communities.
Marine surveying off the coastal communities that was conducted last year will continue this summer, in order to determine the best routes for cable and the proper amount of cable protection, or armor, so the line is not gashed by things like ice floes that can scrape the sea floor.
Advantages for energy industry
On top of the plans for the main cable, Quintillion and Alaska Communications recently purchased a fiber-optic network from ConocoPhillips that has been used by the oil company to serve its Kuparuk River and Colville River units.
The network will reach an area of the oil patch where most new developments are budding, but where Internet is available only through clunky satellite or microwave connections.
To bring faster service to the oil industry, ACS plans to invest $5-6 million to enhance the network, said Heather Cavanaugh, director of marketing and corporate communications at ACS.
Anchorage-based General Communications Inc currently has the only fiber-optic line coming to Prudhoe Bay, so the new line will improve competition in the oil patch, said Jens Laipenieks, director of operations for the Arctic Slope Telephone Association Cooperative, providing telecommunication services across the North Slope.
The network will be made available to other carriers, and Laipenieks said the cooperative plans to buy space on the line to serve customers in the industrial complex. It should open the door for more rapid, reliable monitoring of things such as pipeline pressure, tank levels or flow rates, he said.
The cooperative, an investor in Quintillion, is eager to have high-speed Internet brought to rural communities it serves on the Slope, he said. The current service to villages, provided by satellite or microwave, is expensive and prone to delays or outages, he said.
"A fiber-optic connection will never have issues like snow in the satellite dish or solar interference, and it is much faster as far as lower latency technology. So instead of taking 500 or 600 milliseconds, it will be 20 or 30 milliseconds," he said.
That faster speed will be a sea change for the region, he said.
"It's definitely an evolutionary change, a transformational change for our market, so we've been behind it from the very beginning," Laipenieks said.
Related stories from around the North:
Canada: Nunavut game company offers tech scholarship, Eye on the Arctic
Finland:  High-speed broadband rapidly expanding to rural areas in Finland, Yle News
Sweden:  Concern over quality as fiber net expands in Sweden, Radio Sweden
United States:  Broadband Internet forges into rural Alaska, Alaska Dispatch