On edge: Planned Gulf of Alaska military exercise stirs opposition in coastal towns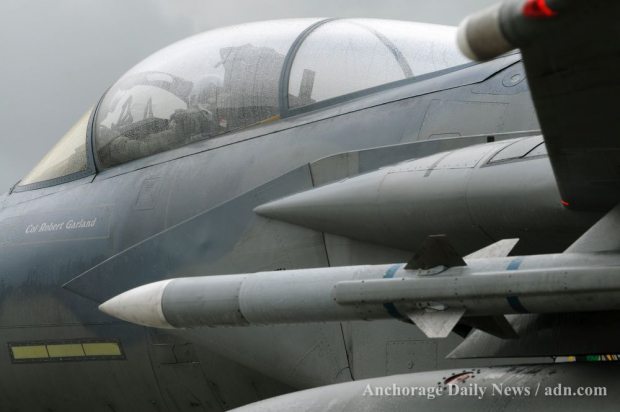 If all goes according to the U.S. Navy's plans, 6,000 sailors, soldiers, airmen, Marines and Coast Guard members will converge this month on the Gulf of Alaska and in the skies above to conduct military maneuvers with three Navy destroyers, a Navy submarine, additional vessels, about 200 aircraft and untold weaponry. The goal is to test skills and military branch cooperation.
But the huge biannual, Navy-led exercise called Northern Edge is putting some of the region's residents on edge. If concerned fishermen, environmentalists and Native tribal members have their way, Northern Edge will be scaled back, postponed or even called off.
Residents of fishing-dependent Cordova held aprotest rally this month, and a similar rally is planned Friday in Homer. The Cordova City Council and the Kodiak Island Borough Assembly have passed resolutions against the exercise as it is currently planned, which they say is dramatically expanded from past Northern Edge activities. The dispute is getting national attention: "Here are the Navy's Plans to Bomb the Arctic," is the headline of an article in the May 21 issue of The Nation.
Fears are misplaced, insist Northern Edge's organizers.
"Overall, the exercise is exactly the same as it's been for the past — how long have we been doing this? — the past 11 years," said Air Force Capt. Anastasia Wasem, director of public affairs for the Alaskan Command. "It is business as usual as far as Northern Edge is concerned."
Critics say otherwise and point to the May 2011 environmental impact statement and record of decision that authorizes Northern Edge 2015.
The 2011 document allows 42 days of activities, broken into sections of 21 consecutive days, up from 14 days allowed in previous Northern Edge exercises, along with a commensurate increase in allowable weaponry use and waste disposal. The EIS and record of decision allow up to 352,000 pounds of waste, mostly naval gun shells or expended small-arms rounds, to be expelled, compared to the cap of 76,200 pounds in previous Northern Edge exercises. Of the expelled wastes, up to 2.9 percent would be hazardous materials like cyanide and heavy metals, according to the EIS.
Assurances from the Navy that activities and impact will fall well under those limits are not reassuring, said Emily Stolarcyk, program manager with the Eyak Preservation Council in Cordova, who has been at the forefront of the anti-Northern Edge campaign.
"Here's the thing: You're not going to have any third-party observers," Stolarcyk said.
Particularly worrisome to Stolarcyk and other critics is the planned wide-scale use of live sonar, which they say is a first for Northern Edge. It threatens migrating whales and other marine mammals, and possibly puts salmon and other fish at risk, she said.
"It's just a giant unknown," she said. "The Navy says, 'Sonar doesn't harm fish.' Well, your own EIS says you don't know."
Wasem said activities and impacts will be "well below" what is allowed in the EIS and that community fears have been heightened by distortions and misunderstandings.
"There's not going to be anything dropped from an airplane," she said. "There's going to be no bombs."
Almost everything that will be fired from ships will be inert, with live ammunition accounting for only a tiny percentage, she said.
While the 2011 EIS expands allowable use of sonar, its use is not new to Northern Edge, the Navy and other military branches point out in a "frequently asked questions" document that has been distributed to Alaskans.
The timing of the exercise — in mid-June, during peak fishing — is another sticking point. The Cordova and Kodiak Island Borough resolutions ask the Navy to postpone the event until after mid-September to minimize impacts to migrating salmon.
But delaying to the fall would expose the military participants to potential weather impediments and additional expenses, Wasem said.
"We have to train when the weather is conducive to training," she said. If bad weather forces a day's delay in Northern Edge activities, "that's a whole day of training and a whole day of money that is essentially wasted," she said.
The location is another point of contention. Critics say the planned site of the exercise — the designated "Temporary Maritime Activities Area," which stretches across the entrance to Prince William Sound — is too important to fish and wildlife to be used for such military activities. The Cordova and Kodiak resolutions, for example, ask that the exercise be moved farther offshore.
The Navy and other branches participating in Northern Edge say the designated area is already well offshore — with a center that is 140 nautical miles from the coast — and, for the most part, does not overlap any area considered essential fish habitat. On that point, the military branches are backed up by the North Pacific Fishery Management Council, which found after at least a year of study that the designated Temporary Maritime Activities Area does not conflict with any essential habitat for the fisheries it manages.
If Northern Edge is not new, and if the impacts have been analyzed by agencies, why has it become so controversial now, with protests staged so close to the planned June 15 start date?
That might be, in part, because Northern Edge exercises — which are supposed to be conducted every two years — have not been held since 2011. Northern Edge 2013 was canceled when the federal government slipped into a budgetary crisis.
But much of the reason for the heightened controversy is likely the work of Stolarcyk and the Eyak Preservation Council.
Stolarcyk acknowledges that Northern Edge has been in the public realm for many years, and that other organizations have used that time and the National Environmental Protection Act process to duly submit comments and written objections.
But official descriptions available through that public process can be dense, bureaucratically worded and easy to overlook. For a small group like the Eyak Preservation Council, which focuses on local issues, that apparently was the case.
"We just didn't know that this was going on," Stolarcyk said. She was unaware of Northern Edge and its environmental implications until last September, she said, when she went to a sparsely attended public meeting on the subject held by the Navy.
Her group submitted official comments on the EIS in the brief time that was left in the public-review period and tried other avenues before making concerns more visible to the public, she said. "We didn't go straight to protests," she said.
A big frustration, she said, is her inability to learn exactly what the Navy and other military branches will be doing in Northern Edge. "I have 19 pages of documentation of emails going back and forth," she said. "We shouldn't have to do all of this to get them to say what they're going to do and where."
Wasem said military officials want to address those frustrations and public worries.
"Our job is to serve the public of the United States," and in the case of the Alaska Command, that means Alaskans, she said. "If they have concerns, we definitely want to hear their concerns and help work through those concerns."