Finland and Russia talk Arctic in Oulu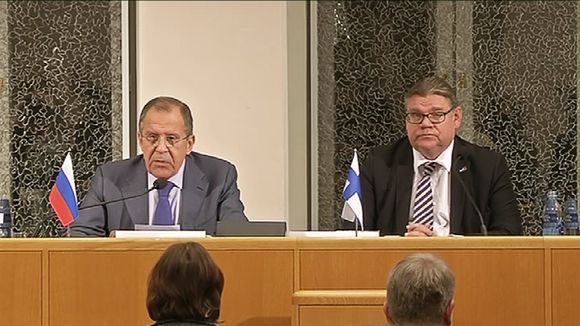 Finnish Foreign Minister Timo Soini and his Russian counterpart Sergey Lavrov met for bilateral talks in Oulu on Wednesday where the two were attending a Ministerial Meeting of the Barents Euro-Arctic Council.
Their discussions focused on economic relations, but also touched upon international issues, including the conflict in Syria.
Wednesday's meeting between Soini and Lavrov was their second within two weeks. The Finnish and Russian foreign ministers last met for discussions in New York where both were attending the UN General Assembly.
Foreign Minister Soini described their latest talks as "very good and substantial", saying that despite the difficult international situation the two countries have a good working relationship.
Importance of Russian market
Soini also pointed out the continuing importance of the Russian market to many Finnish companies. For his part, Lavrov said that outside factors should not be allowed to affect bilateral cooperation, especially in the economic sphere. He noted, though that it has been hit not only by a general economic downswing, but also by EU sanctions and the atmosphere in Russian-EU relations.
International issues discussed included the Syrian conflict, the fight against terrorism, and according to Lavrov, their talks also touched upon the importance of the Minsk agreement and achieving progress in Ukraine.
Barents Euro-Arctic Council
The chairmanship of the Barents Euro-Arctic Council transferred from Finland to Russia at Wednesday's gathering in Oulu.
The council is an organization aimed at promoting sustainable development in the Arctic Barents Sea region. Its members are Denmark, Finland, Iceland, Norway, Russia, Sweden and the European Commission.
Related stories from around the North:
Denmark:  Faroe Islands cashing in on Russian sanctions, Barents Observer
Finland:  "Cold war looming, sanctions our best bet," says Finland's PM, Yle News
Norway:  Russian sanctions hit Norway hard, Barents Observer
Finland:  Russians no-show at Barents conference, Yle News
Russia:  Sanctions menace offshore oil security says Russia, Barents Observer
Sweden:  Sweden's dairy farmers hit hard by sanctions against Russia, Radio Sweden
United States:  New US sanctions against Russian oil, Barents Observer